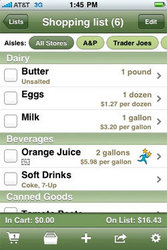 Our huge and vocal user base told us they wanted the ability to sync lists with family members, and we listened
New York, New York (PRWEB) October 6, 2009
Shopper, a top-selling iPhone Shopping List App, is now making it even easier for busy families to accomplish their shopping chores by creating a digital version of the refrigerator list on busy mom's smartphones and syncing it in real-time with her family. No more multiple trips to the store or buying the wrong ingredients for dinner - any person can make a list and share that list with others thru Shopper, and it always stays up to date with the most recent family needs.
A simple two-step process brings the entire family in-synch:

Register an account with Shopper
Send an invite to your spouse within the app, and when accepted they can now see what is on your list!
Any changes to a shared list are automatically updated in the recipient's Shopper account as well. Turn off sharing with one click - it couldn't be easier.
With the Holidays approaching, Shopper now helps you share your wish-list with family and friends! Change your mind on what you want? Get the item in advance? Update your list and everyone can see what you truly want and what you've already got, without sending multiple emails.
Some of Shopper's existing features include:
Building multiple lists for multiple stores
Input pricing, photos, or coupon information for any item
Check Guiding Stars Nutritional Ratings on grocery items
Easily organize lists to match the aisle order or layout of their grocery stores
"Our huge and vocal user base told us they wanted the ability to sync lists with family members, and we listened", said Antony Galdi, Shopper Product Manager for ReachEverywhere. "We strive to help busy families accomplish their shopping goals more efficiently and are adding additional features in the coming weeks that will help people save money and time, so stay tuned!"
Shoppers can visit MyShopperApp for more information, details and to download the application.
About ReachEverywhere
ReachEverywhere, a New York-based company with off-shore R&D facilities is building the premier in-store mobile shopping assistant to help consumers decide where to shop and what to buy. ReachEverywhere's iPhone application, Shopper, has consistently been a top seller in the lifestyle category of the iTunes App Store, where it continues to delight consumers with a simple and intuitive interface. Shopper saves busy households time and money, while also opening up an entirely new targeted in-store communication platform for brands and retailers to connect with the consumers they serve.
###