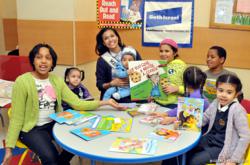 I was fortunate to have parents who read to me as a child, so I hope that every child has the same experience I did.
New York, NY (PRWEB) February 08, 2013
Children at Beth Israel Pediatric Associates gathered for a very special story time with Miss Teen USA, Logan West. Her visit highlighted the work of Reach Out and Read of Greater New York, an early literacy program that partners with pediatricians to make reading part of a healthy childhood for young New Yorkers. Miss West also read to children at the Ryan/Chelsea-Clinton Community Health Center.
Through Reach Out and Read, pediatricians provide children with free age-appropriate books at each checkup, and work with parents and caretakers to make reading aloud with their children part of a daily routine. This is the third year of Reach Out and Read of Greater New York's partnership with the Miss Universe Organization, the producers of the MISS UNIVERSE®, MISS USA® and MISS TEEN USA® pageants.
Dr. Robin Jacobson, Chief of Pediatric Ambulatory Care for Beth Israel Medical Center said, "The kids in our practice love the Reach Out and Read program and look forward to receiving books at their doctor visits. They had an extra special surprise when Logan West visited our office. Logan was not only beautiful and kind, but she showed the children that education is very important for your future." Through Reach Out and Read, pediatricians at Beth Israel have distributed more than 7,000 books to patients in the past year alone.
"Reach Out and Read has been a wonderful program for the Ryan/Chelsea-Clinton Community Health Center, as it helps us connect children with books at a young age," said Dr. Carolyn Chu, Medical Director and Acting Executive-Director of the health center. "It highlights the importance of literacy from the very beginning, and encourages families to bond through a shared love of reading."
Adds Logan West, Miss Teen USA: "I had such a wonderful time reading to the children, and I am thankful to be a part of a program that is exposing children to books. I was fortunate to have parents who read to me as a child, so I hope that every child has the same experience I did."
There are Reach Out and Read programs at more than 180 hospitals and health centers in the Greater New York region, including the five boroughs of New York City, Long Island, and seven counties north of the city. Any family that visits a pediatric clinic with Reach Out and Read is exposed to the program, which reaches over a quarter of a million children each year, primarily from low-income and under-served communities.
According to the newly released Kids & Family Reading Report from Scholastic, "having reading role-model parents or a large book collection at home has more of an impact on kids' reading frequency than does household income." Reach Out and Read aims to influence parents' behavior by encouraging them to read aloud with their children every day, and by providing them with the tools to help them do so: new, high-quality books.
About MISS TEEN USA:
The Miss Universe Organization, a Donald J. Trump and NBCUniversal joint venture, is a global community empowering role models of beauty, health and leadership for young women of today. As part of the Miss Universe Organization, Miss Teen USA is dedicated to partnering with charities around the world, and to increasing awareness of teen issues. For more information, visit: missteenusa.com.
About Beth Israel Pediatric Associates
Beth Israel Pediatric Associates is a busy general and specialty pediatrics practice that serves a diverse population, located in the Phillips Ambulatory Care Center in Manhattan. Reach Out and Read has been working in partnership with Beth Israel Medical Center for more than 10 years.
About the William F. Ryan Community Health Network
For over 40 years, the family of Ryan Community Health Centers has provided thousands of medically under-served New Yorkers with access to high quality, affordable, primary, preventive, and specialty health care and supportive services. Operating under the principal that "health care is a right, not a privilege," the Ryan Center opens its doors to all people, regardless of their income, neighborhood, race, or the language they speak.