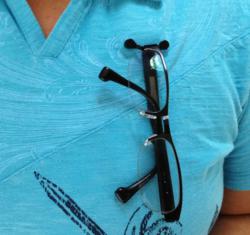 ReadeRest Magnetic Eyeglass Holder - the Summer essential
Rapid City, SD (PRWEB) June 30, 2013
Nifty-Nifty.com, the leading online retailer of nifty, innovative products as seen on TV, advises that Consumers will be well equipped with ReadeRest magnetic eyeglass holder to avoid the Summer sunglasses and readers toggle. Because ReadeRest Magnetic Eyeglass Holder is a Summer essential, Nifty-Nifty.com is providing free shipping on Readerest, Magnetic Eyeglass Holders, as seen on Shark Tank and elsewhere online.  The ReadeRest is a nifty eyeglass holder that uses a magnetic clip to secure reading glasses, sunglasses or other eyeglass wear to a consumer's shirt or blouse. After being featured on Shark Tank and the View, the ReadeRest has become a hot, sought-after commodity on Internet e-commerce sites.
"We love the ReadeRest, or sometimes as it is called Readerrest, Specsecure, because it revolutionizes people's lives" explained Wendy Miller, co-owner of Nifty-Nifty, a leading online retailer of everything nifty, including eyeglass holders such as the ReadeRest.
To learn more, go to:

About the Readerest, Magnetic Eyeglass Holders
ReadeRest super strong magnetic eyeglass holder is a simple and easy way to wear eyeglasses, specs, sunglasses, readers or it can be used as an ID Holder or for a scarf.  Readerest is a shirt eyeglass holder. No need to poke holes in clothing, simply place the v-shaped hook side of Nifty-Nifty's best magnetic eyeglass holder on the outside of the clothes and the magnet on the inside and as easy as that an eyeglass hanger is created. Readerest was recently featured on Shark Tank and The View because it is a functional, practical and unique way to carry eyeglasses
About Nifty-Nifty
Nifty-Nifty strives to make life easier with handsfree, best cell phone accessories, cell phone purses and innovative products. The company sells a variety of magnetic eyeglass holders seen on Shark Tank, magnetic eye wear solutions to solve eyewear management problems, including Readerest, handsfree clip-on pockets, pouches, purses, hands free clippable fabric mini-purses and pocket accessory, including Hip Klip Cell Phone Purses, Phubby wrist cell phone holder, wrist wallets for cell phones-a hands free solution, and other solutions for today's active consumer. Nifty-Nifty is where function is fabulous.
Web. http://www.nifty-nifty.com/
Tel. 858-248-2302
Email. info(at)nifty-nifty(dot)com