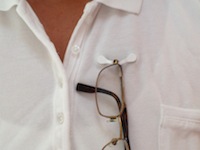 Even the 'I never take my glasses off' people are using ReadeRest magnetic eyeglass holders for their Sunglasses
Las Vegas, NV (PRWEB) June 23, 2013
Nifty-Nifty.com, the leading online retailer of nifty, innovative products as seen on TV, announces ReadeRest Magnetic Eyeglass Holder as the top Summer Companion. Readerest, as seen on Shark Tank, is the Summer outdoor companion and is explained in informative posts on the company's website. Readerest is the top seller on Nifty-Nifty.com, and now users are relying even more on Readerest Magnetic Eyeglass Holder for their sunglasses.
The Readerest, by Specsecure, is a magnetic eyeglass holder which showcased on the Shark Tank TV program and on The View. Readerest magnetic eyeglass holder was originally created by Rick Hopper and is now the top seller at Nifty-Nifty for carrying eyeglasses and especially sunglasses handsfree.
"Having sold Readerest magnetic eyeglass holder for quite some time," explained Wendy Miller, co-owner of Nifty-Nifty.com.  "We're excited that we are one of the very few online retailers to offer top selling Readerest, magnetic eyeglass holder, by Rick Hopper, and to encourage potential buyers to use Readerest Magnetic Eyeglass Holders for their sunglasseses, and how to buy Readerest online at the best prices with no cost shipping to the USA and Canada."
For more information on the Readerest, go to:

Buyers of the Readerest have been really motivated by Rick Hopper who is a very charismatic sales person, and they wonder where they can buy Hopper's Specsecure Magnetic Eyeglass Holder. Nifty-Nifty prices are better than most Readerest coupon offers, and the company prides itself on a "no games" policy of not artificially raising prices on shipping. It is a sales program for Reader Rest that Rick Hopper would undoubtedly be proud of.
Summary of Web Content Explaining What Readerest Is
Readerest super strong magnetic eyeglass holder is a simple and easy way to wear eyeglasses, specs, sunglasses, etc.  In the summertime Readerest Magnetic Eyeglass Holder is the perfect solution for carrying sunglasses, especially for those who need to switch from readers to sunglasses often. Readers or consumers can use it as an ID Holder or for their scarves as well. Readerest is a shirt eyeglass holder. Consumers no longer need to poke holes in clothing; they can simply place the v-shaped hook side of Nifty-Nifty's best magnetic eyeglass holder on the outside of clothes and the magnet on the inside and as easy as that consumers have an eyeglass hanger. Readerest was recently featured on Shark Tank and The View because it is a functional, practical and unique way to carry eyeglasses.
About Nifty-Nifty.com
Nifty-Nifty.com is the world's leading online retailer of innovative, nifty products. The company specializes in online retailing of products such as the ReadeRest, Phubby, Cross Body Cell Phone Purses, Hip Klips and other innovative online products at the best prices with no charge shipping in the USA and Canada.
http://www.Nifty-nifty.com
Tel. 858-248-2302