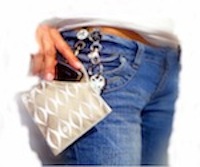 I am very happy for reaching over 500 Facebook Fans as well as the response from our audience and followers on Facebook.
New York, NY (PRWEB) April 13, 2013
Nifty-Nifty.com, the leading online retailer of nifty, innovative products as seen on TV, has proudly announced that the company has surpassed 500 subscribers on Facebook. The company uses Facebook as a way to provide information on the newest innovative nifty items such as Readerest, magnetic eyeglass holder, Phubby, wrist cell phone holder, and Hip Klip, cell phone purse.
"I am very happy for reaching over 500 Facebook subscribers as well as the response from our audience and followers on Facebook," explained Wendy Miller, co-owner of Nifty-Nifty.com "Facebook has proven to be an amazing way for us to share free information on innovative new items such as Readerest, Phubby and Hip Klip with a wide audience of Facebook followers. For example, some of Facebook audiences exceed thousands of views, as consumers are hungry for free information on new innovative items."
For more information on Nifty-Nifty, go to -
Social Media and Innovative Products
Today's consumers are hungry for innovative, new products that solves problems and make those consumers to seem fashion-conscious. Products like Readerest, for example, cater to the growing number of over-fifty Americans and Canadians who need reading glasses but do not want to "look old." Phubby, a cell phone holder for the wrist, caters to the growing trend of outdoor sport enthusiasts who want to stay connected while out and about. And Hip Klip is an innovative cell phone purse that allows females to carry their phones in style. Social media sites like Facebook become a conversation nexus wherein consumers can share new ideas and purchases. Nifty-nifty.com has found that its Facebook page is a growing consumer forum for innovative products compared with the "As seen on TV" movement of the 1970s and 1980s.
About Nifty-Nifty.com
Nifty-Nifty.com is the world's leading online retailer of innovative, nifty products. The company specializes in online retailing of products such as the Readerest, Phubby, Cross Body Cell Phone Purses, Hip Klips and other innovative online products at the best prices with no charge shipping in the USA and Canada.
http://www.Nifty-nifty.com
Tel. 858-248-2302