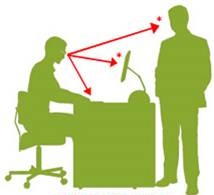 (PRWEB UK) 13 June 2011
To celebrate the release of the V@rionet multi-focal reading glasses, Varionet UK has pledged to donate a pair of prescription lenses to Vision Aid Overseas for every 10 "Likes" on Facebook. Unlike the "off-the-shelf" set power lenses used in the Varionet glasses, the lenses donated to Vision Aid Overseas are prescription, just like the lenses used in standard spectacles. This means they can be used by an optometrist following an eyetest to cut and glaze into a complete pair of prescription specific glasses.
The goal is simple: reach 2000 "Likes" on Facebook. There is no purchase necessary for Facebook fans that wish to aid this charity campaign. Fans do have an extra incentive for their generosity, this "Like" gets them 10% off the Amazon.co.uk purchase of V@rionet multi-focal reading glasses, Varionet UK's new product.
Varionet UK are committed to even donating lenses to the charity above and beyond the goal of 2000 "Likes" if the campaign is successful.
"Vision Aid overseas is a fantastic organisation and we are really proud that we have an opportunity to help with their noble cause," says a spokesperson from Varionet UK. "We also hope that they will go the extra mile and post a status update to their friends."
About Vision Aid Overseas
Vision Aid Overseas aims to transform access to eyecare services for people in developing countries by establishing Vision Centres, training healthcare workers and utilising the expertise of volunteers to undertake outreach programmes in areas away from existing facilities. For more information on Vision Aid Overseas visit http://www.vao.org.uk/
The V@rionet multi-focal reading glasses just hit the shelves at Amazon.co.uk and eBay. The V@rionet multi-focal reading glasses use a "degressive" lens technology to provide ease of vision from reading distance, all the way up to 1 metre. With an introductory price of £29.99, the new glasses offer huge savings when compared to opticians, which can often cost in excess of £300 for a similar product.
They work by providing the typical reading magnification at the bottom of the lens, and then the magnification power decreases the further up the lens you go. This means that while wearing these, you can comfortably use your computer at work and have perfect vision of all objects that are in your immediate working area. Right from the keys you are tapping on your keyboard, to the price lists or customer information pinned up on your desk partitioning.
About Varionet UK.
Varionet UK offers Multivision glasses at affordable prices. These glasses deliver the ultimate innovation in off the shelf reading products in decades. These multi-focal reading glasses do not correct distance vision; therefore, they should only be used for activities which require vision of your immediate area of up to a metre. More information is available on the Facebook page or can be requested using the discussion area.
###