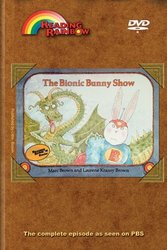 Reading Rainbow is an opportunity to do something great for our future. We're building the foundations of self esteem and giving students the tools they need to succeed without them even realizing that they're learning
Lincoln, NE (PRWEB) March 10, 2011
Even with budgetary concerns, teachers must forge ahead, expanding learning opportunities for their students. ShopReadingRainbow.com is here to help with 15% discounts and free shipping on educational media. Teachers can own a Reading Rainbow DVD, with the same episodes as seen on PBS, to show in their classroom along with educational resources at prices that will accommodate even the tightest of budgets.
Teachers and educators who purchase educational DVDs from ShopReadingRainbow.com get more than just a video. Free episode-related material is also included. With the DVD, teachers will also receive:

Themes: learning objectives, lesson plans, step by step directions, and student assessments
Teacher guides: discussion starts, activities
Curriculum index
Accelerated reading list
Research articles
Reading Rainbow DVD episodes are close captioned with a running length of 30 minutes, perfect for keeping young minds interested. Educational media at ShopReadingRainbow.com are suitable for kindergartners through fourth graders.
"The Reading Rainbow series has been quite popular among educators. Unfortunately, these same educators are facing budget cuts that prevent them from getting the materials they need to teach. Our hope is that by discounting our Reading Rainbow DVDs by 15% and adding in free shipping that it will become more affordable," states Steve Lenzen President of Destination Education, Inc, parent company of Reading Rainbow.
Reading Rainbow introduces young students to books in a fun way that encourages reading and enforces the concept that reading is fun. Stories are engaging with themes that students are interested in. At the same time, the episodes inspire confidence and help increase creative thinking.
"Reading Rainbow is an opportunity to do something great for our future. We're building the foundations of self esteem and giving students the tools they need to succeed without them even realizing that they're learning," states Lenzen.
Educational DVDs are also available to help introduce basic math and science concepts as well. Counting, addition, subtraction, and basic biology are themes explored through animal characters on farms, in the ocean and more.
To learn more or to purchase a Reading Rainbow DVD, visit ShopReadingRainbow.com.
About ShopReadingRainbow.com and Destination Education, Inc
Reading Rainbow, which aired on PBS, helps teachers and professionals have access to educational materials at very low costs. Teachers use Reading Rainbow DVDs to teach reading, math, and science to primary school children.
###