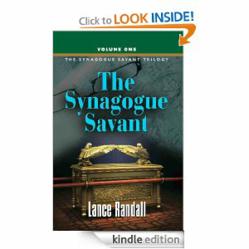 "Go Claasy Tours is proud to offer a FREE novel and a All Inclusive Caribbean Beach Vacation at a discounted travel prices!" Stated Andrea Hutchinson President of Go Classy Tours
Palm Harbor, Florida (PRWEB) May 30, 2012
Go Classy Tours announced today a special offer for vacation travelers. They are giving away books for free to read on vacation this summer. In conjunction with author Lance Randall, Go Classy Tours is pleased to provide anyone with a copy of one of the first two volumes of The Synagogue Savant Trilogy. Book titles available include Volume One - The Synagogue Savant or Volume Two - The Brotherhood of the Jihad by Lance Randall. No purchase from Go Classy Tours is necessary.
Included with the book is a discount coupon that makes a fabulous all-inclusive vacation even more affordable. The coupon is valid for any beach vacation booked through Go Classy Tours! Many resorts in Jamaica, St. Lucia, Antigua, Bahamas, and Mexico are available for both couples and families.
These two novels are exciting adventure love stories set in the rich historical period of the early twentieth century. Three groups of extremists chase a powerful symbol of Jewish nationalism across the Atlantic and throughout modern day Israel. Set in 1910, the Zionist movement, resisted by Arabs, driven by Jewish hardliners, and supported by Christian groups, is growing in influence. An aging, world-travelled businessman, an orphaned craftsman, and a beautiful young woman resist the forces struggling over Palestine and find excitement, purpose, and love. To review the novel and read portions of the text visit Synagogue Savant.
Mr. Randall's novels are the first two volumes of the The Synagogue Savant Trilogy. The first volume, The Synagogue Savant, is available for order in print (normally $16.99) or electronic copy (normally $9.99) through most of the major booksellers, like Amazon, Barnes and Nobles, Books a Million and Book Locker. The second volume, The Brotherhood of the Jihad, will be published in June, but a .pdf advanced version is available for free through this offer. The third volume, entitled The People of the Ark is due out in October 2012.
To receive a free 250 page .pdf copy of The Synagogue Savant, simply email Go Classy and mention the Go Classy Tours Free Book offer. A .pdf version of The Synagogue Savant by Lance Randall will be sent by return email. The .pdf file is readable with Adobe Reader (a free program most computer users already have) on most electronic readers and devices, and may be shared with others. Instructions on how to receive a free copy of the second volume, The Brotherhood of the Jihad will be included.
Also, included with each book is a coupon from Go Classy Tours for $25 off per adult on any vacation package purchased from Go Classy Tours. The coupon is valid on any all-inclusive resort for five-night paid stays or longer in 2012. Reservations must be made before June 30, 2012 for the coupon to apply. This offer is limited to new bookings only. Other conditions may apply, please contact Go Classy Tours for details at toll free 888 825 2779.
Go Classy Tours, Inc is a nationally known wholesaler of many Caribbean all-inclusive resorts. With offices in Palm Harbor, Florida, the company has assisted tens of thousands of satisfied travelers with their vacation plans for over thirty years. Resorts for families, singles, and couples are available in a wide choice of islands and themes. Contact Go Classy Tours at toll free 888 825 2779.
Author Lance Randall and his wife live on acreage in Central Florida with their horses, dogs, chickens, and ducks. Graduates of Florida State University and native Floridians, they enjoy a quiet farm life.
----------------
"The Synagogue Savant is a historical novel that raises questions and exposes possibilities that are issues a hundred years later in a modern day world dominated by religious fanaticism and political terrorism." Lance Randall
--------------
"A FREE novel and a Caribbean beach vacation at a discounted travel price! Awesome!" Judy M.
Florida Registration #10015
California Registration #1015540-40