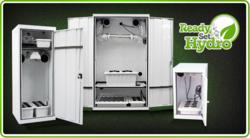 Boca Raton, FL (PRWEB) January 04, 2013
Ready Set Hydro is announcing the launch of their official website! Ready Set Hydro is a leading producer of indoor gardening appliances such as grow boxes and grow room kits. With their incredible skill and craftsmanship, the Ready Set Hydro team provides customers with top-quality indoor gardening equipment designed to make growing a breeze.
With the explosion of indoor gardening and the new growing technology used in their products, Ready Set Hydro is set to make huge waves in the gardening community. Their fully automated grow boxes allow even novice gardeners to grow beautiful plants with minimal effort.
Ready Set Hydro's grow boxes use the award-winning SuperPonic system, which is an automated hydroponic system that will make growing an incredibly simple process. The SuperPonic system grows plants up to 2x faster than a traditional hydroponic system or up to 5x faster than traditional soil gardening, thus allowing customers to maximize yields and save time. Ready Set Hydro aims to provide every customer with the highest level of customer service in the industry. Each order is backed by Lifetime One-on-One Grow Support and a comprehensive suite of support materials, including a grow tips guide, manual, instructional DVD, and nutrient feeding schedule.
Using only the finest name-brand components, Ready Set Hydro backs every sale with a 3 year No-Hassle warranty. You will never find any substandard or cheap knock-off components, with each unit undergoing over 10 years of research, development, and refinements. All of the company's grow boxes are hand assembled in the United States with the finest attention to detail and craftsmanship. Ready Set Hydro also stays ahead of the curve on a continuous basis, utilizing cutting edge technology and growing methods, which guarantee a high quality product that will be growing strong for years to come.
Whether you have a complex question or you just want to pick the brain of an experienced grower, Ready Set Hydro's expert team is here to provide customers with top-notch support and products. For more information regarding Ready Set Hydro's products visit the companies official website at http://www.readysethydro.com