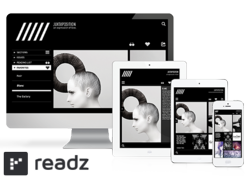 We've taken the heavy-lifting out of migrating content to mobile.
Los Angeles, CA (PRWEB) April 17, 2013
Marketers, PR executives, publishers, and brand managers struggling with stretching their messaging across desktops, tablets and smartphones now have additional cross-platform publishing & social marketing options with Readz new partners.
Three partners – all providing online strategy and branding guidance – will now offer the Readz platform suite for creating light-weight Web magazine apps. The new partners include: NewsEngine, a Belgium-based public relations agency - Start Digital, a creative design team based in Brazil, and DigitalPC, located in the United Kingdom, near London.
"This is an opportunity to expand our clients' promotional reach," says NewsEngine Managing Director, Ben Geysen. NewsEngine develops promotion and awareness strategies for companies and business leaders in Europe. "There's a need to be in front of audiences who use their favorite mobile device, whether it's an iPad or phone. With Readz publishing, we can have nice Web magazines created quickly for a brand – and update as needed – directly to the device. No waiting. This is a big advantage for our clients."
Brazil's Start Digital founder Luciano Arnold works with entrepreneurs and individual businesses concerned with maintaining brand "look", messaging and quality across all offline and digital platforms. "We present the best, most logical solutions for our clients. With this publishing platform, we can customize themes and ready-made templates available to us, or import the clients' design as-is and work from there."
Start Digital acknowledges that transitioning or re-creating content from PDF, print, Word docs or other formats can be a challenge. "We can now offer a more streamlined approach. Readz publishing suite is 'create-once-for-all-devices.' This saves time and money, plus the quality is outstanding."
Known for their customer dedication and high level of technical expertise, partner DigitalPC confirms that time is sometimes a higher priority over budget. "On many occasions, there's a clock to beat," says DigitalPC's Graham Duffy. "Having a solution to get Web content out the door – especially for all screens – is incredibly useful."
Readz digital publishing has taken the heavy-lifting and development work out of migrating content to mobile. Readz founder and CEO Bart De Pelsmaeker explains, "We've spend time and research building the platform, the tools. We will continue to introduce new features. Of course, the most popular so far is 'no coding.' You don't have to be a programmer to 'get it' and to understand the expense and time we can save."
Readz robust suite of tools includes:

content import and curation
one-click cross-device responsive publishing
branding and styling design tools
social engagement tools
ready-to-go, customizable design themes
customizable article templates
stunning cover pages
content organization and lists
social sharing
option to create or upload your own design
direct-to-device publishing
"We realize some teams or companies may not have time to take first-steps to migrate their content to all devices, even if they have an urgent need," adds De Pelsmaeker. "Readz experts can help our partners and clients launch … and show them how to use the suite for themselves going forward. We've found once they do so, they become very creative and proficient."
-------------------------------------------------------------------------------------------------------------------------------------
A digital content marketing platform, Readz offers a complete solution to transform blogs, PDFs, print, or other content into stunning multi-device user experiences. Readz allows content providers to build their own Web magazine apps using Readz publishing suite of tools. Complete with pre-made, customizable design themes and layouts, there is no need for coding.