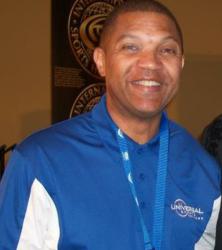 some Republicans feared the Ronald Reagan hologram might overshadow Mitt Romney.
Columbus, Ohio (PRWEB) August 30, 2012
Tony Reynolds, the founder of A KickIn Crowd dot Com, acknowledged today he conceived the Ronald Reagan Hologram idea.
Reynolds, author of "The Sarah Palin Rogue Revolution," which was officially endorsed by Sarah Palin Radio Executive Director, La Donna Hale Curzon, spoke of why the Reagan Hologram concept was conceived and why it was cancelled.
"I had conceived the idea to host a Ronald Reagan Hologram to Officially kickoff my new crowd funding web site," Tony Reynolds, founder of A KickIn Crowd said.
"I have obtained the rights to a speech President Reagan had given and decided it would be a great way to introduce the site, A KickIn Crowd, and contrast how the new JOBS ACT will super charge small business against the way banks have failed America.
"In this speech, President Reagan advocated freedom for small business," Reynolds said.
AV Concepts, the people behind the TUPAC Hologram, agreed to create the Ronald Reagan Hologram at the Lakeland Center on August 26, 2012 according to Reynolds.
Reynolds explained he didn't want it to seem to be a partisan event, and therefore had started inviting both Republicans and Democrats, as well as Crowd Funding small business leaders.
"The JOBS ACT is a bi-partisan achievement in Washington and we will need all hands on deck to make sure it gets implemented. I didn't want to be the one who changed that atmosphere."
"I heard some Republicans feared the Ronald Reagan Hologram might overshadow Mitt Romney, so they were reluctant to support it during the convention," Reynolds said. "We all know President Reagan was known as ' The Great Communicator.' "
"Because we definitely do not want the JOBS ACT to become a partisan football, or in anyway interrupt either convention, and with time running short, we pulled the plug on the project. We will reschedule it for another time," Reynolds finished.
I pitched it to several national media, and I'm sure they are aware of it because some started contacting me when the rumor came out.
"If a hologram does happen, although I'm certain it is a derivative of my idea, it will not be my production," Reynolds said.
Instead Reynolds decided to kick off A KickIn Crowd with a fan book, "Urban Renewal, The Buckeye Nation Welcomes their new Coach," for incoming Ohio State University Buckeye Coach Urban Meyer.
The fan book features several former players including Buckeye Legend Cornelius Green, Dimitrious Stanley, James Cotton, Rodney "Hacksaw" Bailey and others! (http://www.prweb.com/releases/buckeyes/crowdfunding/prweb9771670.htm?129&goback=.gde_4446403_member_155885312)
"This better represents the mission of A KickIn Crowd, being a sports based crowd funding portal," he finished.