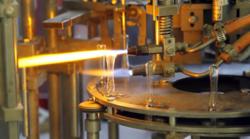 Ampoules are small vials which are commonly used as containers for substances that need to be protected from air and other contaminants
(PRWEB UK) 13 June 2013
ReAgent Technical Director Darren Wilson explains, "Ampoules are small vials which are commonly used as containers for substances that need to be protected from air and other contaminants. ReAgent uses glass ampoules as they have superior strength over plastic alternatives. Glass ampoules are also impervious to gases and liquids."
The Rota 915 ampoule filling machine operates by melting off the top of each ampoule with an open flame then filling the ampoule with the required substance. Once filled, each ampoule is hermetically sealed using an open flame to create a clean seal with no glass shards or slivers to contaminate the contents. When required for use, the customer simply snaps the glass top off the ampoule where indicated and the uncontaminated contents are ready to be used.
Any liquid compatible with glass can be handled in this way and machine can output runs from just a few units up to tens of thousands of ampoules. Filled ampoules can be supplied in bulk or can be packed into cartons of five, ten or twenty units.
The ampoule filling machine operates comfortably at a rate of 15 sealed ampoules per minute, producing over 6,000 filled ampoules per day. Each ampoule can be filled with a volume of liquid ranging from 0 to 2 ml depending on the needs of the individual customer. Open vials can be filled with liquid volumes from 0 to 20 ml. A video of the ampoule filling machine in action is available on the company's YouTube channel.
ReAgent is a specialist chemical manufacturing company based in Cheshire and is one of the largest chemical suppliers in the UK. Managing Director Richard Hudson concludes, "With over 35 years' experience in the chemical industry and a wealth of technical knowledge we can offer both custom and off-the-shelf chemical products to suit the unique requirements of each of our customers. Whether it is ampoule filling or another of our extensive range of products and services, we're always happy to help."
Further information is available on ReAgent's ampoule filling service can be found on their website http://www.ReAgent.co.uk.