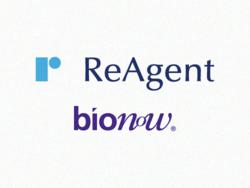 We are delighted to have become a Member of Bionow and look forward to being a part of this innovative and supportive network. We believe that membership will support and enhance our business model
(PRWEB UK) 27 May 2013
With offices in Manchester and Newcastle upon Tyne, Bionow supports business growth, competitiveness and innovation within the vibrant biomedical sector across northern England spanning biotech, pharmaceutical, healthcare, medical devices and the specialist supply chain. Committed to providing high-quality services for its members, the Bionow team is independent, experienced and highly knowledgeable, drawing upon extensive career backgrounds in both the private and public sectors.
ReAgent MD, Richard Hudson explains, "ReAgent is a well-established chemical company with over 35 years' experience manufacturing and supplying chemicals to a diverse range of industry sectors including 'blue-chip' pharmaceutical companies. We are committed to business growth and are currently developing new and exciting business strategies. We are delighted to have become a Member of Bionow and look forward to being a part of this innovative and supportive network. We believe that membership will support and enhance our business model."
Bionow members range from early-stage young firms to established growth-orientated businesses within the life-sciences and biomedical sectors. Their network and community is backed by the active involvement of other members and suppliers across the UK including universities, NHS organisations and professional service providers.
Benefits of Bionow membership include:

Essential support for start-ups including professional guidance on investment-readiness, marketing and regulatory compliance complemented by webinars and face-to-face networking.
Discounted attendance at global conferences and preferential rates from preferred suppliers.
Established companies can access a tailored package of knowledge, contacts and supply chain opportunities and save at least 40% in specialist consumables purchasing.
Knowledge sharing – network online and face to face with other Bionow Members and share your experiences.
Flexible support to larger member companies to provide bespoke assistance with major investment projects.
Bridging the gap between business, academic and clinical organisations
Access to the right people at the right time
Bionow Membership Manager, Mary Roberts concludes, "We are delighted to welcome ReAgent as a new Member and we are confident that they will see a great return on their membership investment. We have over 160 members already benefitting from savings, connections and increased profile. Whether you are a start-up business or a large established company, we have a tailored programme to suit your needs.There are real benefits in becoming a member of Bionow and we look forward to a long and successful partnership with ReAgent."
Further information about Bionow, News and Events and how you can become a member, please visit http://www.bionow.co.uk.