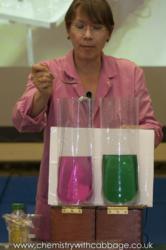 I've had the privilege of seeing Lorelly 'in action' at a nearby Primary School and it's incredible how she engages with the children
(PRWEB UK) 23 November 2012
Its founder Lorelly Wilson, explains, "I originally set up the company to encourage children to become interested in chemistry at a young age and to help them understand the relevance of chemistry in our everyday lives. After all, as human beings we have lots of chemical processes going on inside us all the time! I want to make chemistry fun and exciting and to help children understand what a great career they could have in chemistry."
Wearing her trademark pink lab coat Lorelly visits several Primary Schools each week where she runs full-day workshops with Year 5 and 6 pupils. Here the students have the opportunity to safely carry out a wide range of chemical experiments using proper equipment and familiar household chemicals such as washing up liquid, bicarbonate of soda, milk and vinegar. Typical demonstrations and 'hands on' activities include:-

Making an indicator using red cabbage
Testing household substances to see if they are acids, alkalis or neutrals
Performing neutralisations
Denaturing protein
Cleaning a coin in acid
Making a fire extinguisher using carbon dioxide gas
Making a plastic
ReAgent Managing Director Richard Hudson adds, "Lorelly's enthusiasm for chemistry is palpable and she is totally committed to making chemistry accessible to a young audience. We are delighted to be able to help Chemistry with Cabbage by providing them with the chemicals they need for their school visits. Don't forget that some of these youngsters are going to become the chemists of the future."
In addition to full-day workshops, Chemistry with Cabbage runs hour-long demonstrations of chemistry experiments using familiar substances and provides lots of ideas and suggestions for children to try with their teacher or at home.
The organisation also holds demonstration lectures to show examples of the chemistry behind a healthy diet and demonstration talks for adult groups, teachers and students of all ages. Full details of these, together with professional and fun links can be found on the website at http://www.chemistrywithcabbage.co.uk
Lorelly's work has received many favourable comments from Ofsted inspectors and teaching professionals which can be viewed on the website. Amongst the many honorary posts she holds, Lorelly Wilson was awarded the prestigious Royal Society of Chemistry Inspiration in Industry Award for 2012.
ReAgent Technical Director Darren Wilson concludes, "I've had the privilege of seeing Lorelly 'in action' at a nearby Primary School and it's incredible how she engages with the children. By the end of the session they had got to grips with molecules, the differences between solids, gases and liquids and had even made their own indicator solutions. That's quite an achievement for a class of 9 and 10 years olds."