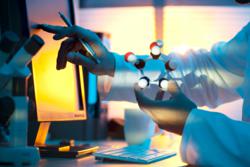 Contract manufacturing is a term which is widely used in the chemical industry. Our area of expertise is helping customers to bring a concept to actual product manufacture
(PRWEB UK) 21 January 2013
ReAgent Technical Director Darren Wilson explains, "Contract manufacturing is a term which is widely used in the chemical industry. Our area of expertise is helping customers to bring a concept to actual product manufacture."
There are different aspects to contract manufacturing. For example, a customer may already know what they require or have a good general idea and perhaps a specification or formulation. They may have specific requirements for manufacture to be carried out to very fine tolerances on some of the components or they may require a Certificate of Analysis for the finished products because by buying a product in to a certified standard the customer does not need to test the material themselves.
Darren Wilson continues, "Additionally, a customer may specify certain types of packaging or need the product to be supplied in a particular format for their process such as pre-dosing to a set quantity. At other times they may require the product to be supplied in bulk. A customer may know what job they want the finished product to perform but may not know what product they require. They may already be buying something similar from another source but having difficulties with lead times, price or quality. On these occasions, we look for the active ingredient so that we can manufacture a similar but not identical product to the one they are currently using. Very often we make up a sample and send this off to the customer to check that it performs properly in the application for which it is intended."
The Company has worked on a range of manufacturing projects for general reagents, cleaning chemicals, surface treatment chemicals and coatings. It is important when considering contract manufacturing that the customer gives as much information as possible to the contract manufacturer at the outset to improve the efficiency of the whole process.
ReAgent also offers a contract manufacturing service whereby it manufactures, packs, labels and ships to the end user on behalf of another company using customer-supplier labels and containers where required.
ReAgent Managing Director Rich Hudson concludes, "As a business we have seen a huge growth in this specialism over recent years. We believe that our technical expertise combined with analytical backup and our ability to manufacture to very tight tolerances has resulted in an expansion of these services. We look forward to continuing to provide our customers with the contract manufacturing services they require."