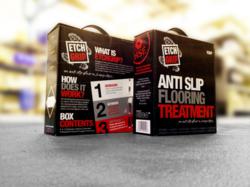 EtchGRIP is an amazing substance as it actually changes the surface structure of the flooring material at microscopic level making it slip-free when wet
(PRWEB UK) 19 November 2012
Cheshire-based chemical company ReAgent and anti-slip flooring specialists Oltco joined forces to develop the remarkable material which can be applied to hard, smooth surfaces such as polished concrete, tiles, stone, ceramics, enamel and porcelain in order to increase slip-resistance in wet conditions.
ReAgent Technical Director Darren Wilson explains, "Oltco are leaders in the field of non-slip floor treatments and were looking for a Quality Assured chemical company to work with on the development of the new product. At ReAgent we specialise in a bespoke formulations service whereby we work closely with companies in a wide range of industry sectors to help develop products which they can take to market."
Darren continues, "We spent a long time studying the chemistry behind the request and together explored a number of possibilities; it was essential that the finished product was a surface treatment rather than a surface coating which could flake off. EtchGRIP is an amazing substance as it actually changes the surface structure of the flooring material at microscopic level making it slip-free when wet."
EtchGRIP has been a big hit with customers and many well-known companies have signed up to the product. At Wembley Stadium, all of the tiled concourse and toilet areas, entrances, luxury boxes and restaurants have been successfully treated with EtchGRIP, bringing the whole stadium up to Pendulum Test Values set out by the HSE and UK Slip Resistance Group.
Other large customers include London Midland Trains who have used the product at 16 of their larger railway stations whilst Holiday Inn and Barcelo Hotels and Resorts Group have used the product in bathrooms and wetrooms to increase surface slip-resistance in wet conditions.
Tom Stringer, Technical Director at Oltco adds, "We are delighted with the success of EtchGRIP and it has been a pleasure working with the chemists at ReAgent. From the very beginning they understood the principles of our request and together we worked hard to produce the finished product. We have seen sales of EtchGRIP grow significantly during the past 3 years and we believe this trend will continue."
Oltco offers a wide range of other anti-slip flooring treatments including floor coatings, decking products and sealers. Their latest product is an EtchGRIP DIY kit aimed at the domestic market for use in bathrooms, wetrooms, kitchens and entrances.
ReAgent Managing Director Richard concludes, "We are delighted that our collaboration with Oltco has been so successful and we look forward to working together on future projects."