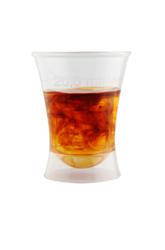 We have been getting a lot of enquiries recently for Lugol's Iodine. Many people prefer to buy Lugol's Iodine online from a reputable chemical supplier such as ReAgent
(PRWEB UK) 27 December 2012
Charles Screawn of ReAgent Technical Sales explains, "We have been getting a lot of enquiries recently for Lugol's Iodine. Many people prefer to buy Lugol's Iodine online from a reputable chemical supplier such as ReAgent. We have a proven track record with over 35 years in the UK chemical industry and additionally we are accredited to a number of internationally-recognised quality and environmental Standards so customers can buy from us with confidence."
The chemical is also known as Lugol's Solution and is named after French physician Jacques Lugol who first discovered its potential uses in 1829. The solution comprises elemental Iodine and Potassium Iodide in water and is available in 1%, 2% and 5% concentrations. Customers can buy Lugol's Iodine in 500 ml and 2.5 ml pack sizes.
It is used for a number of applications including:-

as a disinfectant
as an antiseptic
as a germicide
as an emergency disinfectant and decontaminant to produce water fit for drinking as it destroys bacteria, viruses and cysts
to treat marine life in aquariums for unwanted parasites and harmful bacteria
to help prevent bleaching of corals in marine aquariums
in medical research where it is used in the observation of cell membranes in diffusion and osmosis
in analytical chemistry
as a general laboratory reagent
as a preservative
as a fungicide
in micro biological analysis where it is used to stain cell structures and make the nuclei more visible as it stains them brown
to replenish iron deficiency
to counter the effects of radiation
in veterinary medicine
as an indicator solution to test for the presence of starches in organic compounds
Although ReAgent does not sell chemicals which are intended for medicinal or food use, it is acknowledged that Lugol's Iodine is used as an alternative treatment for a range of ailments including gout and in the treatment of hyperthyroidism.
ReAgent Technical Director Darren Wilson concludes, "We are proud of our reputation as a manufacturer of quality chemicals and work in accordance with all latest relevant health and safety and hazardous chemical legislation. We try to respond to our customers' requirements and are pleased to add Lugol's Iodine to our chemical range."
The company holds accreditations to ISO 9001 Quality Management System, ISO 14001 Environmental Management System and IIP (Investor in People).