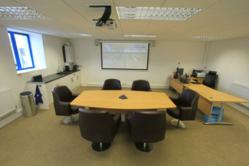 The new facility has already had a massive impact on our business
(PRWEB UK) 3 December 2012
The new premises have added an extra 50% capacity in addition to providing luxury offices, kitchen, staff canteen and Boardroom. ReAgent has installed state-of-the-art IT and communications technology throughout including a new telephone exchange and computer servers.
ReAgent has been manufacturing high quality chemicals at its Runcorn site for over 30 years during which time it has built up an impressive customer base. Employing high calibre staff from the local area, ReAgent is a market leader in supplying chemicals online. Its clients include many 'blue chip' companies in a wide range of industries. ReAgent is fully accredited to a number of internationally-recognised quality and environmental Standards including ISO 9001:2008 Quality Management System and ISO 14001:2004 Environmental Management System. ReAgent is also a recognised Investor in People.
Managing Director Richard Hudson says, "These are exciting times for ReAgent and we are delighted to be so busy in the current economic climate. The acquisition of our new facility has had a tremendously positive impact not just on the running of the business itself but also on staff morale. We have a strong, dedicated workforce and are committed to providing our customers with the best quality products at attractive prices with excellent customer service. We will continue to invest heavily to support growth and take the Company forward."
A lot of work was required before ReAgent could occupy the new premises due to the fact that the site was previously a nut-roasting factory. There was a thick coating of grease on all internal structures, walls and floors so a specialist team was brought in to chemically clean the interior.
Once the cleaning was complete, ReAgent enlisted the skills of a local building contractor who replaced large parts of the internal structure to comply with fire regulations and insurance requirements. The Company then painted the entire manufacturing facility – inside and out – in 'ReAgent' blue. Naturally, because ReAgent is a UK chemical supplier, the paint used had to be chemical resistant.
Technical Director Darren Wilson adds, "The new facility has already had a massive impact on our business. We have been able to move a large percentage of our finished goods to our new facility, freeing up space in our existing factory and improving levels of efficiency and stock control. We have installed a grid system for finished goods awaiting dispatch which is enabling us to react more quickly to customer demand."