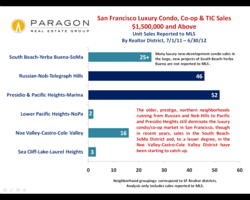 The luxury home market in San Francisco–typically defined as houses, condos, co-ops and tenants in common (TICs) selling for $1,500,000 or more–experienced a big surge in activity in the second quarter of 2012
San Francisco, CA (PRWEB) August 02, 2012
The Paragon Real Estate Group is announcing the release of its 2012 second quarter market update. The update from the real estate investment company discusses the dynamics of the San Francisco luxury home market.
"The luxury home market in San Francisco–typically defined as houses, condos, co-ops and tenants in common (TICs) selling for $1,500,000 or more–experienced a big surge in activity in the second quarter of 2012," Patrick Carlisle, chief market analyst for Paragon Real Estate Group, said.
"The luxury home segment in San Francisco makes up about 11 percent of the overall home market in the city by unit sales. One of the most interesting dynamics playing out right now in the SF luxury home market is the large increase in high-tech industry buyers with huge sums of new money at their disposal. Their presence is strongly impacting the market, especially in certain neighborhoods they've deemed most appealing and that are often close to work locations, such as in South of Market area (SoMa) or near highways south to Silicon Valley. We expect this influx of new, wealthy buyers to continue throughout 2012 in the Bay Area."
Carlisle continued, "By some measures, property values, at least in some high-end neighborhoods, are rapidly approaching peak values from 2007/early 2008. Multiple offers on new listings and sales prices above the asking price have become common."
Many of these buyers are purchasing homes all cash with short close of escrow timelines and limited conditions of sale. Additionally, a fair percentage of these sales are taking place off-market, without being placed into the multiple listing service (MLS) system. Sales prices of up to $30 million for both houses and condos have occurred in the past 12 months.
"Luxury sales are concentrated in a number of San Francisco neighborhoods. The older, prestige northern neighborhoods like Sea Cliff, Pacific and Presidio Heights; the Marina; and Russian and Nob Hills still dominate the highest price segments of the luxury home market. But the central district of the city, which includes neighborhoods such as Noe, Castro and Cole Valleys, and the greater SoMa-South Beach district, where many of the newest luxury condo developments are located, are seeing dramatically increasing numbers of luxury home sales. Other neighborhoods where luxury home sales occur include St. Francis Wood, Forest Hill and Potrero Hill," Carlisle said.
For more information about Paragon Real Estate Group, its real estate agents or its homes for sale, please view its website at http://www.paragon-re.com or visit 1160 Battery St. in San Francisco. For additional market analytics, visit http://www.paragon-re.com/MarketDynamics/.
About Paragon Real Estate Group
With an impressive record of brokering condos and homes for sale in the San Francisco market, Paragon Real Estate Group is uniquely poised to help people successfully negotiate every aspect of buying and selling real estate. Whether clients are seeking houses for sale or selling their property, Paragon Real Estate Group is unwavering in its commitment to the customers. It is the only locally owned and managed brokerage in San Francisco that conducts business across the entire city in all market segments and neighborhoods--first-time homebuyers, residential and luxury homes, real estate investment, commercial property, leasing, and new home development. With about 125 agents and a management, marketing and support team of more than 20, Paragon brokered almost a billion dollars in real estate in 2011. In 2012, RealTrends 500 ranked Paragon No. 3 in sales per agent and No. 4 in average sales price of the 500 largest brokerages in the U.S.