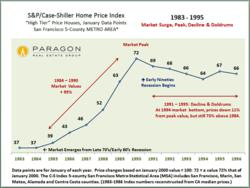 Financial market and housing market cycles have been around for hundreds of years
San Francisco, CA (PRWEB) August 18, 2012
The Paragon Real Estate Group is announcing the release of its August 2012 market report. The update from the real estate investment and brokerage company discusses the historical dynamics of the San Francisco home market from a longer term perspective with an eye to what lessons the past may hold regarding future trends.
"Financial market and housing market cycles have been around for hundreds of years. While future cycles will vary in their details, the causes, effects and trend lines are often quite similar, and may offer useful perspective and hold lessons for the future," Patrick Carlisle, chief market analyst for Paragon Real Estate Group, said.
"Over the past 30 years, there have been two full housing market cycles, and we are now on the cusp of a third. The first cycle starts with the country coming out of the late 1970s, early 1980s recession. As the economy recovered, the housing market started to appreciate in 1984 and this surge in values began to accelerate deeper into the decade. Over six years, the market appreciated almost 100 percent. Finally, the 1980s version of irrational exuberance, as well as the late 1989 earthquake here in the Bay Area, ended the party. A new recession arrived, home prices sank, sales activity plunged and the market stayed flat for four years. Still, even after the decline, home values were 70 percent higher than when the boom began in 1984."
Carlisle continued, "The second cycle looks similar but elongated. In 1996, after years of recession, the homes market suddenly took off and became frenzied -- similar to what we're experiencing today. The dotcom bubble pop and the September 2001 attacks created a market hiccup, but then the subprime and refinance insanity, CDOs and derivatives, and Ponzi schemes super-charged a housing bubble. From 1996 to 2006/2008, the market went through an astounding period of appreciation. (Different areas hit peak values at different times from 2006 to early 2008.) Then, in September 2008 came the market crash."
Across the country, home values fell 15 percent to 60 percent, peak to bottom, depending on the area and how badly it was affected by foreclosures -- most of San Francisco got off comparatively lightly with declines in the 15-percent to 25-percent range. The least affluent areas got hammered hardest by distressed sales and price declines; the most affluent were typically least affected. Then the market stayed flat for more than three years, albeit with a few short-term fluctuations.
Paragon's chief market analyst continued, "In 2011, San Francisco began to show signs of perking up. An improving economy and growing buyer demand coupled with a low inventory of listings began to put upward pressure on prices. In 2012, as in 1996, the market abruptly grew frenzied with competitive bidding. The city's affluent neighborhoods led the recovery, and those considered particularly desirable by newly wealthy, high-tech workers showed the largest gains. However, virtually the entire city is now experiencing a high demand-low supply dynamic. The SF median house sales price has increased dramatically in 2012, though varying widely by neighborhood. But it's still an early recovery -- though seemingly a strong, healthy one -- and the economy remains susceptible to big financial/political crises. However, the greater Bay Area, the state and the country are all beginning to show signs of a housing recovery. New home construction is rising, distressed sales are declining, the rent vs. buy equation has turned favorable to buying, and values are ticking up again."
"Absent another financial crisis, we expect this positive trend in the San Francisco homes market to continue," Carlisle said.
For more information about Paragon Real Estate Group, its real estate agents or its homes for sale, please view its website at http://www.paragon-re.com or visit 1160 Battery St. in San Francisco. For additional market analytics, visit http://www.paragon-re.com/MarketDynamics/.
About Paragon Real Estate Group
With an impressive record of brokering condos and homes for sale in the San Francisco market, Paragon Real Estate Group is uniquely poised to help people successfully negotiate every aspect of buying and selling real estate. Whether clients are seeking houses for sale, investing or selling their property, Paragon Real Estate Group is committed to the customers. It is the only locally owned and managed brokerage in San Francisco that conducts business across the entire city in all market segments and neighborhoods--first-time homebuyers, residential and luxury homes, real estate investment, commercial property, leasing, and new home development. With about 125 agents and a management, marketing and support team of more than 20, Paragon brokered almost a billion dollars in real estate in 2011. In 2012, RealTrends 500 ranked Paragon No. 3 in sales per agent and No. 4 in average sales price of the 500 largest brokerages in the U.S.