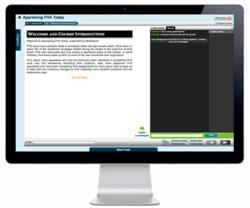 The most terrific online course experience available on the web today! Innovative, interactive , comprehensive and complete.
Warren, PA (PRWEB) November 12, 2012
McKissock.com, a market leader in real estate, appraisal and home inspection education, is now bringing more of the live classroom experience to online education in several new ways with its industry leading VC5 online course platform.
Look and Feel
As every good redesign goes, it started with a significant facelift to the online platform as well as all of the courses themselves.
Student Chat
Students have been given the ability to chat amongst themselves during the course. This will allow them to ask questions and share thoughts as they go through the content.
Course Notes
The new notes feature is just awesome! Take down notes on any page and reference, edit, print or delete them later.
Course Comments
Course comments allows students to weigh in with their opinion of the content on any particular page. Then agree or disagree with classmates!
Instructor Interaction
The new email feature allows students to quickly communicate questions, thoughts, and comments to the instructor in a very easy way. Simply click the email icon, type a message, and press the send button. The message will go straight to the instructor.
With incredible student to student interactivity, customizable layouts and other powerful tools to help learn and retain that knowlegde, the McKissock Online Course Platform will change anyone's opinion of online learning forever!
About McKissock.com
In 1990, McKissock began offering continuing education classes and online courses to real estate appraisers. As word of our quality education spread, they added pre-licensing and upgrade courses for appraisal professionals. Today, they also offer online Real Estate CE nationwide as well as post-licensing and pre-licensing education to select states. McKissock serves a professional clientele from an array of industries – appraisers to real estate brokers and agents, home inspectors, land surveyors and engineers.
All McKissock courses, both live classroom and online, are backed by our 100% No-Nonsense Guarantee. Your time is valuable (not to mention your money) and you shouldn't have to pay for a course that doesn't provide an exceptional educational experience. If at any time up to 24-hours after completing the course, you tell us that the course failed to meet or exceed your expectations, we will refund up to 100% of your purchase price or give you a discount towards a future course. Your choice. No gimmicks. No empty promises. No fine print.
McKissock.com: Love, Trust, Joy, Boldness