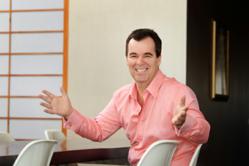 While I've refined my techniques over the years.... it was the mindset shift that was the biggest leap forward for me
Sydney, Australia (PRWEB) May 16, 2012
For over 30 years Australian property investment expert, Rick Otton, has been buying and selling real estate, without the involvement of traditional lenders, like banks. In his just-published real estate book 'How To Buy A House For A Dollar', he has reveals the latest strategies that he uses, and teaches.
"I first began investing in property in the USA in the 1980s" said Mr Otton. "Because it was at a time of turmoil in the banking industry, it was necessary for me to think creatively in order to get into the market. While I've refined my techniques over the years, and modified them for different markets, it was the mindset shift that was the biggest leap forward for me."
The traditional real estate purchase process involves aspiring property owners saving hard for a deposit, approaching the banks for a loan and demonstrating a solid employment history - and then being in debt for decades. The young, the low income earners and the self-employed have traditionally found it difficult to meet these requirements.
In 'How To Buy A House For A Dollar', Mr Otton explores some of the alternatives for buying property, and because his strategies require a mindset shift, he believes it to be a self improvement book as well - one that teaches techniques that can be used outside of the property investment process.
"Once readers learn to divest themselves of the belief that their ability to buy real estate rests in the hands of the banks, and grasp the common sense strategies that I explore in 'How To Buy A House For A Dollar', they will learn to think more creatively in other aspects of their lives as well" said Mr Otton.
The real estate book explores alternative property investing strategies that include the best ways to approach buyers and sellers, how to implement instalment contracts and sandwich leases, and how rent-to-buy is solving the real estate dilemma for a growing number of people the world over.
'How To Buy A House For A Dollar' has just been launched in Australia and New Zealand and is available now in quality bookstores. For more information visit http://www.howtobuyahouseforadollar.com
About Rick Otton
Rick Otton is an original pioneer of creative property strategies. He is founder and CEO of We Buy Houses, a leading property enterprise which operates in the property markets of the United Kingdom, New Zealand, USA and Australia.
In 1991 he uncovered an innovative strategy of buying and selling real estate and went on to amass a portfolio of 76 properties in his first twelve months of active investing.
Since 2001, Rick has taught over 30,000 students to buy, sell and trade residential property without banks, debt or risk. By employing these same strategies many of Rick's students have made over a million dollars a year in cash and equity, using little or none of their own money, year after year.
In 2008 Rick revealed his strategies in the United Kingdom and became the creator of 'Houses for a Pound'.
He has appeared in many Australian TV programs including the 2004 ABC documentary 'Reality Bites' and on Today Tonight, Insight and A Current Affair. In October 2007 Rick gave a way a house on national TV during 2 episodes of Channel 9's Hot Property.
Rick Otton has also been featured in Your Property Network, Australian Property Investor, Lifestyle Trader Magazines and in the books: The Secrets of Property Millionaires Exposed!, Ideas: Original Perspectives On Life and Business From Leading Thinkers, Think and Grow Rich in Property, Insider Property Secrets, and Walking With The Wise.
In May 2012 Mr Otton's book "How To Buy A House For A Dollar" was published.
Learn more about Rick Otton at More information, including testimonials from real students, is available at http://www.rickotton.com