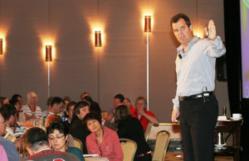 These training events will encourage attendees to look at buying and selling real estate for a perspective that is out of the norm
(PRWEB) August 15, 2012
Property investment strategies, Australian Rick Otton, is about to embark on a series of free one day training seminars aimed at teaching property investing for beginners. One of the key drivers of the decision to conduct these seminars, he says, has been to help dispel some of the myths and selective reporting surrounding real estate investing in the current economic climate.
"For the last two years Australian's have been fed a diet of gloom and doom about the local real estate market" he explains. "Sure, property prices have dropped, but there are strategies that can be employed - the ones that I teach - that allow sellers to get the prices they want for their homes. It is just a matter of looking at things a little differently."
Despite the fact that two of the country's property research organisations, Australian Property Monitors and RPData, show that house prices have risen in response to interest rate cuts, there are still 'experts' predicting a property market crash.
"At the same time, we are being told that home loan approval rates have continued to fall despite the lower interest rates" said Mr Otton.  "So people wanting to invest in real estate are understandably confused:  should they or shouldn't they get into this market?"
The problem with conflicting reports, he says, is that they all have the traditional lenders - the banks - and home loan interest rates as their focus. Mr Otton's real estate investment seminar series has been created to show how potential sellers, buyers and investors can take the banks out of the equation.
A Shift In The Real Estate Investing Paradigm
Mr Otton's real estate investing training events, which are free, will be taking place throughout August 2012 in Brisbane, Sydney, Parramatta, Melbourne and Preston. They build on the strategies shared in Mr Otton's property book for Aussies 'How To Buy A House For A Dollar'.
"These training events will encourage attendees to look at buying and selling real estate for a perspective that is out of the norm" said Mr Otton. "They will cut through the hype surrounding the conflicting statistics, and get back to some common sense basics, sharing my innovative techniques along the way."
More information on the How To Buy A House For A Dollar one day seminars is available at HowToBuyAHouseForADollar.com/register
About Rick Otton
Rick Otton has spent decades making money by snapping up inexpensive real estate and putting it to work building wealth. Now, he's teaching other Aussies how to do the same.
Otton is the founder and CEO of We Buy Houses, which operates in the U.S., U.K., Australia and New Zealand putting his strategies to work every day.
Otton got his start in alternative real estate investment in 1991 and within a year acquired 76 properties. In years after, Otton made a fortune using his low-risk, high-reward strategies to inexpensively acquire real estate.
Now, Otton wants to share the wealth by sharing the wisdom, teaching Aussies how to buy and sell real estate without cutting banks and other middlemen in on the deal.
Otton has been featured in a variety of television programs and magazines, including Today Tonight, A Current Affair, Australian Property Investor and more.
Details of Mr Otton's free one day training events can be found at HowToBuyAHouseForADollar.com/register