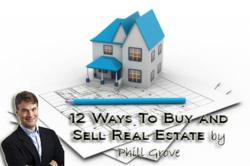 The best way to solve problems is to be educated on multiple solutions. Education and coaching are great ways to do this. This is why I put out a report called 'The 12 Ways To Buy and Sell Houses'
(PRWEB) June 05, 2013
Phill Grove, national real estate speaker, trainer and investor, has released a new report titled 'The 12 Ways To Buy and Sell Real Estate'. The report also contains an infographic as well. To download this free report, please visit http://realestatecoachingandmentoring.com/12-ways-to-buy-and-sell-real-estate-infographic/
"When it comes to investing in real estate, I am what you would call 'strategically agnostic'," says Phill Grove, who's participated in more than 1,200 real estate transactions totaling more than $200 million since December 2003. "This means that I don't just subscribe to one real estate investing strategy. Rather, I educate myself on the 12 ways to buy and sell houses and know when to use them. Then, the focus of my real estate investing business becomes solely on my customers and solving their problems."
Too many real estate investors learn just one or two ways to buy and sell houses and try to fit every problem a seller may have into that particular strategy. Many times this fails, costing the investor money and possibly forcing the seller into foreclosure.
"If you want to have a successful business, your focus must be on solving your customers' problems," continues real estate coaching and mentoring expert Phill Grove. "The best way to solve problems is to be educated on multiple solutions. Education and coaching are great ways to do this. This is why I put out a report called 'The 12 Ways To Buy and Sell Houses'."
For more information on Mr. Grove and to view this report, please visit http://realestatecoachingandmentoring.com/12-ways-to-buy-and-sell-real-estate-infographic/