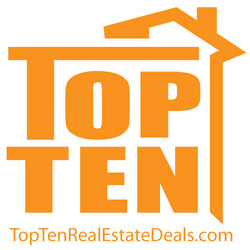 Lanham, MD (Vocus) October 28, 2009
Presenting a 100% independent showcase of the ' Top Ten Most Spectacular Golf Homes' in the US. The Top Ten team performed tons of research, reviewed thousands of websites, and spoke with numerous real estate agents to identify the best Top 10 Golf Home candidates (homes currently on the market at the time of publication).
'The Top Ten Most Spectacular Golf Homes' list includes beautiful homes ranging from a 60 acre estate in the Hamptons, a home on the 18th Fairway in Pebble Beach, and PGA Golfer Jim Furyk's Hawaii home.
To view the Golf Home List visit: http://www.toptenrealestatedeals.com
TopTenRealEstateDeals.com is a new independent website offering Top 10 lists of today's best real estate deals available on the Internet. The site offers a weekly Top 10 list of national (United States) deals and monthly regional lists broken down by major hot spot markets. The information is offered free for publication to the press/media.
For more localized content they have 'Concierge' agents who provide regional market Top Ten lists. The agents search their local market for the ten best available deals and are discouraged from just filling the list with their own listings. The regional 'Concierge' agents are available for assistance in providing more specific market information to site visitors. Only ten great deals are published per market.
For further information, to request an interview with a company representative, or if you would like to become a Top Ten 'Concierge' Agent for your market, please contact Jason Wakefield at press (at) toptenrealestatedeals.com
Contact:
Jason Wakefield
Internet Marketing Director
TopTenRealEstateDeals.com
574-204-2295
press(at)toptenrealestatedeals.com
###