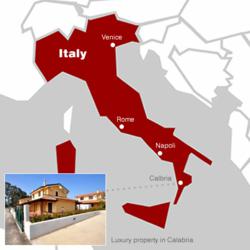 Rome, Italy (PRWEB) November 08, 2012
According to CercaCasa.it, the leading real estate portal in Italy, contrary to the condition of other real estate markets in Europe, Italy's luxury real estate market is making money especially in the most desirable properties in the country. The event counters the recent reports on the decline of real estate market in Italy.
Recent reports show that the factor that was identified to attract buyers from outside Europe or has provoked interest in the real estate market of the continent is the decline of Euro in the first half of 2012. The demand of properties in Italy also increased. These properties are those priced from three million Euros.
CercaCasa.it shows that real estate searches by non-Europe citizens appears to put Sardinia on top and Venice as the second. On the average as according to reports in January-August, the searches of real estate properties in Italy increased by 25%. The most desired are the ones priced at 3.8 million Euros.
The most active buyers outside Italy are the following countries: US, Belgium, UK, Russia and the Netherlands.
Meanwhile, for potential foreign investors, their most sought after regions are Tuscany and Umbria. The website also shows that searches in these areas related to homes pricing from more than five million Euros round up to 84%. Florence also has many searches.
Chianti and Val d'Orcia are some examples of locations in Italy that are really attracting interests from investors. Also, the Niccone Valley in Umbria which is on the Tuscan border nearby has called attention of investors from the north. As a whole, Italy is in for a gaining gross at end of the year and on the first months of the coming year.
Meanwhile, the residential properties' market in Italy did decline for around 30% in the mid-2012. However, the luxury real estate market in Italy is still promising while it has fallen in some parts of Europe.
Leading portal for properties searches in Italy is the CercaCasa.it. It features detailed listings of the properties that researchers and future home and property owners are enjoying. Thus, the site has gained an "increase of 137% website traffic in just 20 days". So, if one is on for a luxury real estate property, the best place to search it is on CercaCasa.it. In addition, the website has a number of professionals who work together to create a comprehensive website for real estate property searches.
Real estate market in Italy is still in a good condition and bringing this up is the luxury real estate market of the country. Visit the website at http://cercacasa.it/ for more information.