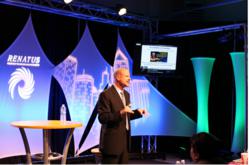 Our instructors can teach and record the classes with a live audience of students.
Centerville, UT (PRWEB) May 02, 2012
Real estate investing education company, Renatus (http://www.myrenatus.com), announces the unveiling of their new video recording studio this month, located adjacent to its corporate headquarters at 1295 West 75 North in Centerville, UT. The new studio supports the company's charge to maintain current, relevant real estate investing education course materials in today's dynamic real estate market by offering an ideal setting and state-of-the-art production equipment for instructional video recording. It will also serve as a live venue for local and national training conferences and business briefings and will support real-time video streaming to computers, tablets and mobile devices.
To finance the state-of-the art video studio, Renatus has reinvested a portion of its monthly earnings since the inception of the company over a year ago, maintaining its debt-free operations. The acquisition of equipment, construction, and finishing touches took just three months, with the assistance of Renatus' Founders Advisory Board members and several Renatus community volunteers rolling up their sleeves.
The completion of the video studio is the realization of Renatus CEO Bob Snyder's dream to provide a facility that would allow Independent Marketing Affiliates across the country to easily demonstrate the ease of access, quality of production and value of the Renatus education to prospective students. "This new studio gives us the opportunity to quickly and easily produce the needed educational content for our real estate investing courses," stated Mr. Snyder. "As investing strategies change in the market, our instructors can come in to teach the class with a live audience of students, and the videos will offer outstanding quality for our Video Classroom educational products," he continued.
Renatus has recorded 21 full-day and 4 half-day classes and is slated to facilitate 11 additional full-day classes in the new studio, bringing their total classes offered to 36. The classes are taught by 17 individual real estate investing practitioners who incorporate real-life, current strategies into the curriculum. Instructor Mark Kohler, M.Pr.A., C.P.A., J.D., comments on the significance of offering current content, "Real estate investing laws and best practices are a moving target. Using strategies that were common five years ago or even one year may not only be ineffective, but could pose legal issues for the investor," he warns.
Live events also play a considerable role in the delivery of Renatus education and training. More than 3,400 Renatus live events and webinars were held across the country in 2011. The new studio will facilitate a growing number of educational events and webinar broadcasts in 2012 with exceptional quality. Christion Sadler, Renatus Independent Marketing Affiliate (IMA) and full-time real estate investor stated, "No longer will distance barriers or travel requirements deter investors from reaching their investing goals. The Renatus video studio will allow students and IMAs to learn, grow and unite as the premier real estate investing community in the United States."
About Renatus:
Renatus, "your way to wealth and prosperity," combines real estate investing with business ownership to allow immediate income while building secure wealth for the long-term. The company's mission is "to empower one million entrepreneurs with the knowledge, tools, systems and support needed to become financially free." The real estate investing educational program, based on the scientifically proven learning methodology, Instructional Systems Design, includes classes beginning at 100-level and increasing in complexity to 400-level and caters to both the novice and experienced investor. As an Independent Marketing Affiliate (IMA), you can leverage word-of-mouth marketing to share the education and enjoy the rewards of business ownership. The Renatus Affiliate Marketing Program allows individuals to earn a significant income through this entrepreneurial opportunity. For more information, visit the company's website at http://myrenatus.com.