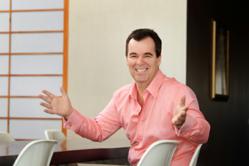 Ken has recognized that by taking a lower deposit, and entering into a rent-to-buy arrangement with a prospective buyer, he has increased the size of the market he can reach
Sydney, Australia (PRWEB) November 20, 2012
Ken Slamet is a 25 year old man with a house to sell. However, in a real estate market that some have described as 'depressed', he discovered that finding a buyer with the $150,000 minimum cash deposit needed for a bank mortgage wasn't easy. So he got creative and his creativity has hit the headlines in Sydney's Daily Telegraph newspaper.
Mr Slamet is a student of Rick Otton, an Australian known the world over for his ability to think outside the box when it comes to property transactions. His belief that many people have become disenfranchised when it comes to bank-controlled home ownership, his strategies involve buying and selling without bank involvement.
"In Ken's case, he has a $1.5 million property to sell; it has been on the market for over 3 months, and he has not received any realistic offers" explained Mr Otton. "In cases such as this most real estate agents would suggest lowering the price, bringing out the old chestnut, that doing so is to 'meet the market'. Owners who chose to not lower the asking price might simply take the property off the market."
But, as Mr Otton explains, there are other options, ones that the banks, and most real estate agents don't divulge to sellers.
"Ken has recognized that by taking a lower deposit, and entering into a rent-to-buy arrangement with a prospective buyer, he has increased the size of the market he can reach" said Mr Otton. "He says that many of the calls he has received have been from recent migrants who cannot qualify for a loan, or high income-earners with a poor credit history."
Mr Slamet agrees. "Rather than negotiating the price, we're trying to negotiate the way people buy it, by offering finance" he explained.
Mr Slamet has attracted enquiries by using hand-made signs tacked to power poles, and even wore a sandwich board sign around the upmarket St Ives area, where the 5 bedroom home is situated.
"People have no trouble embracing the rent-to-buy strategy for electrical appliances and cars" said Mr Otton. "And there is little difference in buying and selling real estate in this way as well."
Early this year Mr Otton published details of his strategies in his book 'How To Buy A House For A Dollar', which has been supported by a series of one day seminars. The next seminar takes place in Melbourne, Australia, on November 24. Details are at howtobuyahouseforadollar.com
About Rick Otton
Rick Otton has spent decades making money by snapping up inexpensive real estate and putting it to work building wealth. Now, he's teaching other Aussies how to do the same.
Otton is the founder and CEO of We Buy Houses, which operates in the U.S., U.K., Australia and New Zealand putting his strategies to work every day.
Otton got his start in alternative real estate investment in 1991 and within a year acquired 76 properties. In years after, Otton made a fortune using his low-risk, high-reward strategies to inexpensively acquire real estate.
Now, Otton wants to share the wealth by sharing the wisdom, teaching Aussies how to buy and sell real estate without cutting banks and other middlemen in on the deal.
Otton has been featured in a variety of television programs and magazines, including Today Tonight, A Current Affair, Australian Property Investor and more.
You can learn more about Otton and how to invest in residential real estate without using banks at HowToBuyAHouseForADollar.com