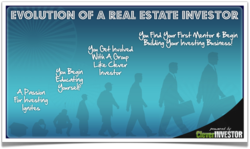 Anyone can be successful at real estate investing, if they follow the strategies outlined in my personalized, focused training sessions.
Chandler, AZ (PRWEB) August 09, 2012
Cody Sperber, real estate expert and founder of the most powerful investment resource online; the Clever Investor announces an exclusive training program for serious real estate investors. For those interested in learning tips and tricks of real estate market investment from experienced professionals, vetted out to ensure success even in a tough market, the Clever Investor mastermind is second to none.
The Clever Investor offers premier real estate investing training through the concept of the mastermind program, incorporating the best high-end real estate investment minds in the country. There are many benefits cited by experienced professionals who regularly participate in carefully crafted mastermind associations. A well orchestrated mastermind group offers the opportunity for like minded individuals, geared towards success to network and share valuable information. Even in an economy that has a somewhat depressed real estate market, savvy investors share proven methods of reaping profits through the wise use of resources. The mastermind concept creates synergy and accountability, which perfectly sets the stage for effective coaching, in a supportive environment. Like-minded individuals coming together with a common purpose, sharing aspirations and resources embody the purpose driven mastermind concept.
Cody Sperber has collaborated with the brightest real estate investment minds to form the most effective real estate investment mastermind group of professionals in the country. The tactics and strategies outlined in these personalized, focused training sessions provide the optimal keys to real estate investment success. Cody Sperber promises to help interested investors learn the time-tested methods for real estate investment success through the Clever Investor mastermind.
Learning how to invest effectively in real estate without relying on personal cash or credit is an additional skill Cody Sperber helps potential investors acquire. For more information about the Clever Investor and the associated mastermind visit the website at: http://www.cleverinvestor.com. Mr. Sperber and his team of experts can also be contacted via email at: support(at)cleverinvestor(dot)com. The Clever Investor team of experts can also address all inquires at 1-888-480-6617.