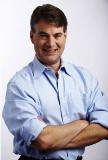 We held a webinar about 10 days ago and filled it up quickly. We estimated about 500 people were unable to attend, so we wanted to go ahead and hold another webinar for those who couldn't get on the first one
Austin, Texas (PRWEB) February 05, 2013
Real estate investor, National Speaker, and trainer Phill Grove will be hosting a live webinar on real estate investing this Tuesday, February 5, starting at 7pm CST. The purpose of this LIVE webinar is to both educate but also to give people an opportunity to ask questions and receive real time answers. To register for this webinar, please visit http://www.reimaverick.com/webinar-2-5-13
"We held a webinar about 10 days ago and filled it up quickly," says Mr. Grove. "We estimated about 500 people were unable to attend, so we wanted to go ahead and hold another webinar for those who couldn't get on the first one."
Phill Grove, who prides himself on being a student of the real estate market, has participated in more than $200,000,000 in real estate transactions while clearing more than $3,000,000 in profits from over 1,200 transactions, and also owns $10,000,000 worth of real estate of which $5,000,000 is free and clear.
"The latest statistics show the real estate market has had continuous improvement for a couple of months now," continued Mr. Grove. "Since the dynamic of the market has changed, so too should the real estate strategies being used. Regardless of if you are a seasoned or new real estate investor, or trying to decide if you want to pursue real estate as a pillar of your financial future, then this live Webinar will be extremely valuable to you," says Mr. Grove.
For more information on the webinar details, please visit http://www.reimaverick.com/webinar-2-5-13