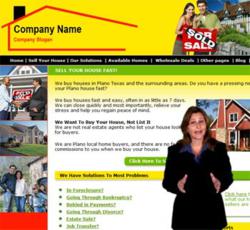 "Most real estate investors are not internet savy. These websites provide a simple way to automate and run real estate investing using less effort, time and money"
(PRWEB) October 26, 2011
http://www.RealEstateInvestorsWebsites.net A real estate investing firm that also builds real estate investor websites, RealEstateInvestorsWebsites.net, has rolled out an upgraded release of websites for real estate investing.
Real estate investors can now take advantage of the inbuilt social media features for marketing. Websites visitors can make comments through their facebook accounts directly on the websites, and share these comments with their friends without leaving the websites.
The visitors can also use the Like feature that has become quite popular with the social media such as Facebook, Twitter and Google Plus.
This release is an enhancement of previous releases that add to the marketing features built into the websites.
With superior search engine optimization, the websites are built to attract targeted visitors. A life-like video speaking model instantly attracts attention and delivers a down to earth, believable message that entices them to take action now.
Visitors can also request free pre-loaded Ebooks that deliver valuable information, and the websites automatically follow up with them using in-built automation and pre-loaded autoresponder messages. The websites are therefore created to attract visitors and convert them into closed real estate deals.
Being controlled from a simple virtual back office, they are easy to manage even for real estate investors who are new to computers. They come loaded with numerous designs and features, and can be fully personalized and adapted to suit any real estate investing business model.
Most importantly, each website is delivered fully customized and personalized ready for business usually within one hour.
For more information, please visit http://www.RealEstateInvestorsWebsites.net or call 214-227-8718.
###