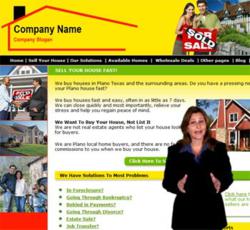 A real estate investor can have a website fully customized for their business in one hour.
Plano, Texas (PRWEB) November 28, 2011
A real estate investing company, RealEstateInvestorsWebsites.net has unveiled new designs for real estate investor websites. These new designs give real estate investors numerous options to customize their websites to fully adapt to their business models.
Real estate investors can run their business without any restrictions as to what they can do with the websites whether they buy houses, sell, rent or wholesale houses, or even if they are looking for private money. The websites can also be adapted to support any real estate business models.
The websites are run from a simple virtual back office that controls all aspects of the real estate investing. They come pre-loaded with over 140 designs. Any design can be loaded at any time with a single click of the mouse, while preserving the content.
They also come equipped with pre-loaded sales oriented content written to convert visitors to closed deals. A life-like video speaking model instantly captures attention delivering a down to earth, believable message that relates to the visitors needs, increasing conversion.
With pre-loaded follow-up autoresponder messages, the websites automatically follow up with leads delivering pre-timed helpful information that they find useful. These messages are written to convert cold leads to motivated sellers who are ready to sell their houses.
A real estate investing business must be fuelled by a constant supply of responsive leads. That is why the websites are delivered optimized for search engines targeting the local market. Real estate investors therefore get leads right where they do business.
For more information, visit http://www.RealEstateInvestorsWebsites.net or call 214-227-8718.
###