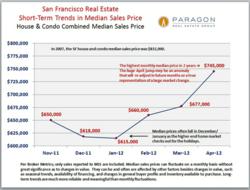 We believe it's very important to give our clients in-depth market condition analytics to help them make informed decisions in one of the largest and most complicated financial transactions of their lives.
San Francisco, CA (PRWEB) May 22, 2012
The turning point in the San Francisco real estate market started in 2011; however, the big upswing in the market started early in 2012 and continues to accelerate rapidly in April and May. Paragon Real Estate Group, a real estate brokerage of residential and commercial property in San Francisco, noticed that the median home sales price jumped 10 percent from March to $745,000 in April. In the first two weeks of May, it has remained at $745,000, indicating that the sudden increase may not be an anomaly but a genuine indication of home price appreciation. For SF condos and houses for sale, this is the highest median sales price since April 2010, when the expiration of the double state and federal tax credits created a buyer rush and a momentary peak in values.
"We believe it's very important to give our clients in-depth market condition analytics to help them make informed decisions in one of the largest and most complicated financial transactions of their lives—buying or selling real estate—and we put great effort into trying to do so," Patrick Carlisle, chief market analyst at Paragon Real Estate Group, said.
There are many factors at work that are creating the upswing in the real estate market. For example, the city's economy and employment situation have been rapidly improving; apartment rents are rising dramatically; and mortgage interest rates have been hitting historic lows. A surge of high-tech buyers, with large compensation packages or new IPO wealth, are adding great pressure to the market in San Francisco--a city that many people wish to live in, regardless of whether they work in the city itself or at tech and bio-tech companies in surrounding counties.
As housing values increase, the financial positions of homeowners improve, which results in more wealth added to the economy and higher consumer confidence. This ultimately brings more buyers into the market looking for homes to buy. As housing prices recover, there will also be fewer distressed property sales. Indeed, these sales as a percentage of total sales in the city are already rapidly dropping.
According to the Paragon Real Estate statistics and analysis, the percentage of listings accepting offers is at its highest level in recent memory, while the Months Supply of Inventory--the period of time it would take to sell existing inventory at current market conditions--is at its lowest point in years.
"The number of homes available to purchase is very, very low, leading to increasing buyer competition for new, appealing homes hitting the market," Carlisle said. "Properties are currently selling faster than they're being replaced by new listings. Very high demand and very low inventory equals upward pressure on home values."
Multiple offers and competitive bidding have become common again in San Francisco, with some new listings generating literally dozens of offers. If this trend is sustained, there is no way it will not lead to higher sales prices. And, according to Paragon, that is exactly what is happening.
With the large decline in prices after the 2008 market crash, the incredibly low interest rates, the many tax benefits of homeownership and the rapidly appreciating rents, the Rent vs. Buy equation in the city has also changed radically. This is causing more buyers to jump back into the market after waiting on the sidelines during recent years.
For more information about Paragon Real Estate Group, its agents or its homes for sale, please visit its website at http://www.paragon-re.com. For additional market analytics, visit http://www.paragon-re.com/MarketDynamics/.
About Paragon Real Estate Group
Paragon Real Estate Group is the only locally owned and managed brokerage in San Francisco that conducts business across the entire city in all market segments and neighborhoods--first-time homebuyers, residential and luxury homes, real estate investment and commercial property, leasing, and new home development. With about 125 real estate agents and a management, marketing and support team of more than 20, Paragon brokered almost a billion dollars in real estate in 2011. In 2012, RealTrends 500 ranked Paragon No. 3 in sales per agent and No. 4 in average sales price of the 500 largest brokerages in the U.S.