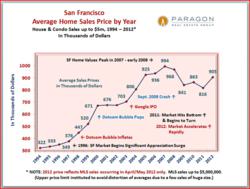 The supply and demand situation--huge buyer demand and extremely low inventory of homes for sale--has created the most ferociously competitive environment for buyers and the best environment for sellers in many years
San Francisco, CA (PRWEB) June 19, 2012
The Paragon Real Estate Group just announced the release of its June 2012 market update discussing the dynamics of a dramatic spike in San Francisco home values.
"The supply and demand situation--huge buyer demand and extremely low inventory of homes for sale--has created the most ferociously competitive environment for buyers and the best environment for sellers in many years," Patrick Carlisle, chief market analyst for Paragon Real Estate Group, said.
"This has been building since the market began turning in 2011, made a quantum jump in early 2012 and is now showing big increases in sales prices. Though certain neighborhoods spearheaded the recovery and are currently showing the most dramatic changes in values, pretty much all of the city's neighborhoods are now experiencing a similar supply and demand dynamic."
Carlisle continued, "By some measures, property values, at least in April and May, are rapidly approaching peak values in 2007/early 2008. In the next couple quarters, it will be seen if this is simply a dramatic fluctuation or an initial indication of a big change in market prices."
Based upon what Paragon Real Estate Group is seeing in the statistics and on the street as houses and condos for sale come on the market, the company is leaning toward the latter.
Closed home sales data reflects the market heat four to 10 weeks prior, when the new listings arrived on the market and accepted offers were actually negotiated. Thus the April/May spike in values mostly reflects the market in February, March and early April. If anything, the market has only become hotter since then. In past years, the market has usually slowed down during the summer months--it is still yet to be seen if that will occur in 2012 or if the current trend will continue.
"Some neighborhoods, such as the greater Noe Valley area, the greater South Beach/SoMa area, and the older, prestige northern neighborhoods like Pacific Heights and Russian Hill, have been at the leading edge of the home market recovery. Other areas, such as many neighborhoods in the southern districts of the city, are a step behind and price increases have not yet shown up as dramatically in the statistics. But we believe they will very soon; the real estate markets there have become very hot, as well," Carlisle said.
Carlisle also pointed out that distressed home listings for sale in San Francisco are rapidly declining by units and as a percentage of the overall market, and as home values and home equity increase, this trend will continue. Since distressed home sales have a negative effect on values, this dwindling will continue to strengthen the market.
For more information about Paragon Real Estate Group, its real estate agents or its homes for sale, please visit its website at http://www.paragon-re.com. For additional market analytics, visit http://www.paragon-re.com/MarketDynamics/.
About Paragon Real Estate Group
With an impressive record of brokering condos and homes for sale in the San Francisco market, Paragon Real Estate Group is uniquely poised to help people successfully negotiate every aspect of buying and selling real estate. Whether clients are seeking houses for sale or selling their property, Paragon Real Estate Group is unwavering in its commitment to the customers. It is the only locally owned and managed brokerage in San Francisco that conducts business across the entire city in all market segments and neighborhoods--first-time homebuyers, residential and luxury homes, real estate investment and commercial property, leasing, and new home development. With about 125 agents and a management, marketing and support team of more than 20, Paragon brokered almost a billion dollars in real estate in 2011. In 2012, RealTrends 500 ranked Paragon No. 3 in sales per agent and No. 4 in average sales price of the 500 largest brokerages in the U.S.