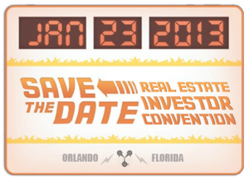 This 3-day convention is designed to inform, educate and inspire investors of all success levels.
San Francisco, CA (PRWEB) January 16, 2013
The past four years have been extremely successful years for real estate expert, Ron LeGrand. After taking time away from instructing at top conventions, Ron is back and excited to teach new strategies to men and women in real estate. The real estate investor convention 2013 is now open for registration online at http://www.newagewithron.com. This new age of real estate live event is taking place January 23rd to 27th in Orlando, Florida and coordinated by Global Publishing, Inc.
This no cost conference provides general admission access to the basic live events and the trade show. A platinum pass is also available that provides immediate access to the VIP section to access the top-tier real estate investment information. This 3-day convention is designed to inform, educate and inspire investors of all success levels.
The real estate market in states like Florida continues to grow as new opportunities for investments are created. The information that is scheduled for distribution at the new convention is designed to work in any city or state in the United States. Apart from expert teaching by millionaire-maker, Ron LeGrand, multiple guest speakers are scheduled to appear to help provide more strategies for building property portfolio wealth.
Scheduled speakers for the January 23rd to 27th convention include Loral Langemeier, Dave LeGrand, Jay Conner, Bob Leonetti, Lee Phillips and Robyn Thompson.
Apart from the educational benefits of this in-person live event, multiple prizes and giveaways are scheduled throughout the length of the event weekend. Both general admission and platinum pass holders are eligible for the drawings and giveaways that are designed to provide more value to attendees.
A new video has been created to help explain each section of the 2013 real estate convention in detail at http://www.youtube.com/watch?v=rjrSEI7G6iI.
About Global Publishing, Inc.
The Global Publishing Inc. company provides the distribution and resources that are used to print the books, DVDs and special training released each year by real estate expert, Ron LeGrand. As a leader in educational resources for property acquisitions, Ron has created successful students across North America and in other countries. The Global Publishing Inc. company holds one of the largest information products inventories that can be found online and in print. The expert information that is provided by this company each year is used to turn average investors into success stories in real estate.