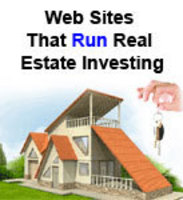 With the ability to automate timed, unlimited follow-up autoresponder messages, real estate investors can launch a targeted marketing campaign to a laser-targeted squeeze page and watch as their web site converts leads into closed deals hands off
Plano, TX (PRWEB) August 20, 2009
Internet marketing must form part of a successful real estate investing business. In a world dominated by numerous offers and commercials, it is crucial to convert every web site visitor into a lead and ultimately into a closed deal. Isolating each marketing campaign to a laser-targeted call to action is therefore a mandatory necessity for a real estate investor website to increase conversions and close more deals.
RealEstateInvestorsWebSites.net, a firm that specializes in Real Estate Investors Web Sites, has unveiled a series of marketing landing pages, or Squeeze Pages, each laser-targeted toward a specific call to action.
Real estate investors now have a wide choice of targeted, high impact direct marketing websites for real estate investing that work to convert each visitor with a high-impact call to action message specifically targeted to their unique needs.
Whether you are buying houses, selling houses, attracting private money or most other real estate investing business models, there is a high-impact laser-targeted marketing landing page you can launch within a few minutes for your marketing campaign.
"With the ability to automate timed, unlimited follow-up autoresponder messages, real estate investors can launch a targeted marketing campaign to a laser-targeted squeeze page and watch as their web site converts leads into closed deals hands off".
The web sites also come with a wide choice of numerous designs and features, with web 2.0 interactive capability including sharing properties on Twitter, Facebook, MySpace and other social networking media. Each real estate investor website comes fully optimized for search engines especially targeting your local market from where you buy and sell to attract more business.
With unequalled adaptability and ease of use, the web sites are controlled from a virtual back office (admin panel) that can be used by any real estate investor even if they are new to computers.
To get your real estate investor web site or for more information, visit Real Estate Investors Web Sites or call 214-227-8718
###