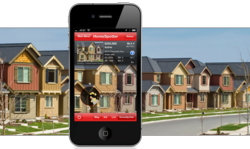 "The Sunday afternoon drive scouting out homes has never been so fun," says realtor Andy Asbury with Better Homes & Gardens Area Leaders. "HomeSpotter takes curb appeal to another level."
Anaheim, CA (PRWEB) November 15, 2011
House hunting just got easy. HomeSpotter is a new feature from MobileRealtyApps that shows customers home listings simply by aiming their iPhone or iPad at homes or condo buildings.
"The Sunday afternoon drive scouting out homes has never been so fun," says realtor Andy Asbury with Better Homes & Gardens Area Leaders. "HomeSpotter takes curb appeal to another level."
HomeSpotter uses a technology called augmented reality to overlay property information on a device's live camera feed. As a home hunter points their iPhone down the street, they see a view of the street and info on all the houses for sale pops up. There's even a radar display that show the direction and proximity of nearby properties for sale.
HomeSpotter is currently available to a limited number of brokers for iPhone and iPad apps, and will be coming soon to Android phones as well. HomeSpotter is the first such platform available on the iPad. It's also the only readily available solution that allows any real estate broker to have their own augmented realty app.
MobileRealtyApps debuted HomeSpotter at the National Association of Realtors® Expo in Anaheim, Calif., as part of the Innovation Open House.
Several broker apps are already offering HomeSpotter technology, including Counselor Realty in Minneapolis/St. Paul, Bob Parks Realty in Nashville, Tenn., and The Premier Property Group in Northwestern Florida.
Visit HomeSpotter.com for more information and a video demonstration. MobileRealtyApps provides a complete mobile solution to brokers and MLS's, featuring apps for iPhone, iPad, Android, and BlackBerry, QR codes, and text and voice response solutions. Founded in 2009 by Aaron Kardell and based in Minneapolis, MobileRealtyApps has worked with various brokers and MLS's including NorthstarMLS, Bob Parks Realty, Counselor Realty, and Better Homes & Gardens Area Leaders.
###