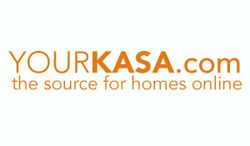 For the same price that many people spend on lunch, a home seller can list their home. Yourkasa.com provides a cost effective way for home sellers to extend their marketing dollar. Also, anyone can access endless home buying and selling resources on Yourkasa.com
Atlanta, GA (PRWEB) October 23, 2007
Yourkasa.com, the premiere online real estate marketing company offering resources for homeowners, buyers and real estate professionals, is pleased to announce the launch of the company's new website and real estate listings service, Yourkasa.com. The website focuses on providing a risk-free marketing service for sellers and a one-stop-shop for buyers across the United States to find homes available for sale.
The minimal overhead cost associated with providing Yourkasa's real estate marketing services enable the company to provide a wealth of resources and value to buyers and sellers at a low cost. The site caters to busy buyers who do not have a lot of time to invest in research. Yourkasa.com enables buyers to enter search criteria for the home they desire and receive real estate listings for homes advertised on multiple websites, decreasing search time and optimizing users' ability to comparison shop. The website also enables buyers to save search criteria and to request to be notified automatically via email when property matching their criteria is located.
Yourkasa also offers a variety of real estate marketing services to benefit those who are selling a home. In the past, home sellers had to post an advertisement in the newspaper's classifieds sections and wait for a response. At Yourkasa.com, sellers can post profiles in the real estate listings detailing homes for sale, including multiple photos of homes' interiors and exteriors and interactive maps. When a buyer is interested in a seller's house, he or she has the capability to reach the seller via phone, e-mail or text message, decreasing turn-around time and, ultimately, improving chances of selling the home.
"For the same price that many people spend on lunch, a home seller can list their home. Yourkasa.com provides a cost effective way for home sellers to extend their marketing dollar. Also, anyone can access endless home buying and selling resources on Yourkasa.com," said Neil Terc, President of Yourkasa.com. "Whether you are looking for the perfect home, in need of a mortgage, or struggling to sell your home, we have the services available to accomplish your goal," said Terc.
About Yourkasa.com
Yourkasa.com is a feature-rich online real estate property listing service that connects home sellers with home buyers. Packed with resources and easily navigable, the site provides sellers with the ability to market their homes to a large, targeted audience and enables potential buyers to view thousands of real estate property listings online via detailed profiles, pictures and maps. For more information, visit http://www.Yourkasa.com.
###