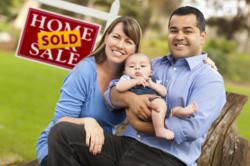 "The latest statistics indicate that real estate market recovery is happening. However, we're still seeing the effects of a persistently depressed economy on struggling homeowners on a daily basis in the form of foreclosure and bankruptcy." -David Chang
Chicago, Illinois (PRWEB) May 16, 2013
The trend toward real estate market recovery in the U.S. has many optimistic homeowners and investors looking forward to another prosperous housing boom in the near future. According to the Chicago Business Journal, "Nationwide, foreclosure filings -- default notices, scheduled auctions and bank repossessions -- were reported on 144,790 properties in April, a 5 percent decline from March and down 23 percent from a year ago. Total foreclosure activity in April was at the lowest level since February 2007, a 74-month low."
While this recovery must be examined in the context of the 2008 nationwide (and worldwide) economic collapse, it's easy to envision the pre-burst housing bubble days of the not-so-distant past. However, attorney David Chang, a partner at Chang and Carlin, LLP, isn't convinced that the recent trend toward recovery and fewer home foreclosures will continue. "The latest statistics indicate that real estate market recovery is happening. However, we're still seeing the effects of a persistently depressed economy on struggling homeowners on a daily basis in the form of foreclosure and bankruptcy."
Those dealing with the day-to-day evidence of a continued housing market depression aren't the only ones advocating a cautious approach toward the current and future housing market; Market analysts also see a few important reasons to take recent trends with a grain of salt:
3 Reasons to be Skeptical of the Current Real Estate Market Recovery
1. The housing recovery is being led by investors. Dean Baker, co-director of the Center for Economic and Policy Research, notes that investors are taking advantage of low interest rates and depressed home prices, and when those rates and prices rise, they'll likely pull back.
2. The economic recovery is just not strong enough yet. Jared Bernstein, a senior fellow at the Center on Budget and Policy Priorities, thinks the housing recovery will continue, but he believes it will do so at a much slower pace. He notes that once the jobs picture improves, strong pent-up demand for homes should emerge.
3. Government cuts will hurt homeowners. Headwinds from the current round of government spending cuts -- $85 billion worth -- could also curb the housing market's recovery. "The spending cuts from the sequestration will hit their apex this summer," said Mark Zandi, the chief economist for Moody's Analytics. The fallout from these cuts could be difficult to project.
Richard Blackden of the Telegraph (UK) also argues that Government support has artificially inflated the recent recovery trends. He notes that, "…the sheer scale of the monetary support still being applied to the US economy makes it harder to gauge exactly how robust the recovery in housing is. What will happen when interest rates eventually rise? Officials at the Fed are betting that when the era of cheap money ends, the broader economy will be strong enough to support a housing market, when mortgages have become more expensive. Right now, no one knows whether the gamble will pay off."
The important takeaway for prospective homeowners is that despite the latest trends toward real estate market recovery, anticipating a continued upward trajectory in the housing market could be perilous. For those considering a home purchase, consider your finances carefully with an experienced adviser. For those facing a potential foreclosure, contact an experienced real estate attorney and explore all your options as soon as possible.
About Chang and Carlin, LLP
The attorneys at Chang and Carlin, LLP provide Chapter 7 and Chapter 13 bankruptcy filings, along with real estate and foreclosure services. For any bankruptcy and real estate legal needs, Chang and Carlin, LLP provide the necessary legal experience and personal service that clients deserve.