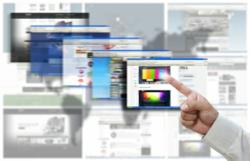 Agents, brokers or other professionals in real estate can use the new published guide to learn how to build a list of qualified buyers.
Danbury, Connecticut (PRWEB) January 22, 2013
Connecting a buyer with an available property is one of the challenges that realtors and agents face on a daily basis. Offline marketing usually consists of print and television advertising to connect with local buyers. Online marketing can be more challenging and a new real estate marketing plan for 2013 has been published online. The HowtoMarketHouses.com website is now making this information available to professionals to help increase sales success online this year. The guide can be accessed online at http://howtomarkethouses.com/building-a-rock-solid-real-estate-marketing-plan.
Building a list of buyers is how many professionals are able to sell online and offline. One of the advantages to connecting with a buyer on the Internet is that there are no limitations to the local area. Qualified purchases are now happening in more than local or regional areas due in part to communication online. Agents, brokers or other professionals in real estate can use the new published guide to learn how to build a list of qualified buyers.
New technologies like mobile applications and smartphones are helping to develop new resources for the real estate industry. Since selling a property requires decisions to be made quickly, a person able to connect with all of the information sources needed to get a deal done can sell easier. Part of the resources offered in the marketing guide includes how the use of mobile technologies can make the work of a seller easier in any part of the country. Both free and paid applications are presented to provide the most options.
Aside from the published guides now online, a new premium content section has been added. This section was created to distribute more advanced information to those searching for ways to streamline online sales of homes. The new premium access page is now live online.
This page gives professionals immediate access to streaming videos, web content and e-book guides that are easily accessible. The information provided in this new premium area is designed for beginners or advanced investors to move quickly and integrate the strategies.
About How to Market Houses
The How to Market Houses company was created in 2007 and has grown over the past 6 years into a resource for beginners and professionals. The online marketing concepts that are presented are created specifically for real estate. Real estate entrepreneur, Ryan Bush, created this online resource to deploy the strategies that he has used as a buyer and seller of properties. The How to Market Houses company provides no cost and premium content online that is used as an alternative to strategies that are typically in use offline. This company updates its content and materials on a regular basis to ensure new tools and information is always provided to help achieve success.