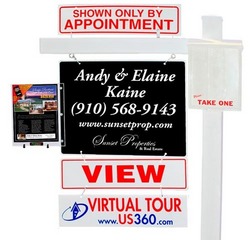 Usable with or without a flyer box, the product saves time and money, while ensuring the maximum number of buyer leads will be generated for agent and seller alike.
Rocklin, CA (PRWEB) November 1, 2010
A new real estate marketing solution called FlyerWHIZ® is now available for purchase at http://www.flyerwhiz.com. The device provides a secure, weatherproof enclosure that permits two single-sided sales flyers, placed back-to-back, or one double-sided flyer to be displayed. The current listing price, along with other relevant information about a property, is viewable from both sides even when the flyer box is empty. Buyers can use their cell phone cameras to take photos of the flyer for an immediate take-away.
FlyerWHIZ® could be referred to as a "24-hour real estate salesperson," as it harvests prospective buyer leads that would otherwise be lost. Roger Kane, the product's inventor and owner of Flyerwhiz, LLC, explains that the product also reduces flyer reprinting costs, saving money right away, but the potential return on investment is far greater. Empty flyer boxes hinder real estate agents' lead-generation efforts severely and represent a persistent source of frustration for potential homebuyers.
"We've all experienced it: You're out cruising neighborhoods and come across a home that really appeals to you. Excited, you stop in front of it, intending to grab a flyer to get all the details, only to find the flyer box empty. And empty flyer boxes can't help sell anything to anybody. It's far more likely a prospective buyer will contact the listing agent regarding a property if they have a real estate flyer in hand," says Kane. "FlyerWHIZ® eliminates these lost sales opportunities forever."
In the real estate business, flyer templates are free, but printing flyers is expensive. According to Kane, the first batch of flyers disappears quickly, as inquisitive neighbors and "lookie loos" snatch them up, curious only as to the asking price. As a result, flyers must soon be reprinted, and the real estate agent has to make the trip to restock the flyer box. If the home is for-sale-by-owner, the seller must continue footing the bill for reprinting flyers and remember to keep the box stocked.
"With FlyerWHIZ®, it's a different story," explains Kane. "We suggest having the price shown only on the flyer within the device, so whenever the listing price changes, all that's necessary is reprinting a single flyer…saving them a bundle. Usable with or without a flyer box, the product saves time and money, while ensuring the maximum number of buyer leads will be generated for agent and seller alike. FlyerWHIZ® is an economical, yet highly-effective real estate marketing solution."
Since the product is 100% transparent, interested buyers can take advantage of their cell phone's camera feature to instantly capture photos of both sides of the flyer within, making a take-away practically guaranteed. The flyerwhiz.com website even offers a downloadable, high-resolution image file that agents can place right into the flyer's design, which actually encourages buyers to snap a few pictures of the flyer to take with them.
Made in America, FlyerWHIZ® is weatherproof, secure, never yellows and filters 80% to 90% of the sun's damaging UV rays, assuring the sales flyer within remains looking great at all times. Kits include all stainless-steel mounting hardware to prevent rust in wet environments. Purchasing information and complete FlyerWHIZ® product details are available at flyerwhiz.com.
About Flyerwhiz, LLC:
Flyerwhiz, LLC manufactures FlyerWHIZ® and is sold exclusively through its wholly-owned ecommerce website. Roger Kane previously owned and operated a successful B2B corporation for 25 years, supplying shoplifting prevention equipment to the nation's leading retail chains. Mr. Kane has conceived numerous successful and innovative products, being granted five U.S. patents and several U.S. trademarks. He sold his lucrative enterprise in 1998, retiring at the age of 49. Having recognized this unsatisfied need in the real estate industry, Mr. Kane is back at it once again.
###