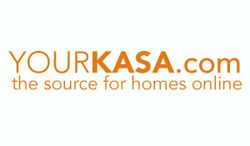 YourKasa is interested in opening up opportunities to everyone who is thinking about buying a home for the first, second, or even third time
Atlanta, GA (PRWEB) July 22, 2008
YourKasa.com, an online real estate marketing company, is pleased to announce that it is now offering mortgages and loans from 100 lenders on its website. While many consumers may find a similar offering on other websites, the difference is clear with its home buyer packages that make purchasing a house a much simpler venture. First-time buyers will appreciate this innovative service that lets them research and choose the right mortgage lender for their individual needs. Consumers no longer need to wait anxiously for an answer - each company on the real estate marketing company's extensive list of lenders does all the work and contacts a potential home buyer if a match is made.
"YourKasa is interested in opening up opportunities to everyone who is thinking about buying a home for the first, second, or even third time," said Neil Terc, president of YourKasa. "We've created unique home buyer packages that assist individuals in the detailed process of purchasing a house or other type of real estate."
YourKasa's home buyer packages - mortgage and loans services included - provide the best terms and rates possible, and if needed, down payment (as low as 3%) and closing cost assistance programs. Trained specialists at YourKasa, who are experts in the real estate industry, will guide interested consumers through the process and are personally able to find out if they qualify in just minutes. A bad credit score does not necessarily exclude certain consumers from loans - an FHA mortgage can still help home buyers purchase property. 100% financing is offered in addition to rates as low as a 30-year fixed 5.80% loan. Other mortgage options include 203k loans for rehabbing a property and upfront monetary assistance. For more details on this unique real estate marketing service, please visit http://www.yourkasa.com or apply for a mortgage and loans through the website today.
About YourKasa.com
YourKasa.com is a feature-rich online real estate property listing service that connects home sellers with home buyers. Packed with resources and easily navigable, the site provides sellers with the ability to market their homes to a large, targeted audience and enables potential buyers to view thousands of real estate property listings online via detailed profiles, pictures, and maps. For more information, visit http://www.yourkasa.com.
###