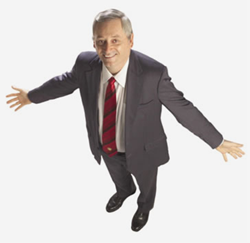 "LeGrand has taught thousands of students over the past 30 plus years how to buy and sell houses using little or zero dollars of their own money or credit to produce residual and replacement income
San Diego, CA (PRWEB) November 09, 2014
On November 11th, 2014, as the public celebrates and honors military heroes both active and retired, Ron LeGrand and his company, Global Publishing, Inc., are offering full scholarships to military personnel for a live 4-day Real Estate School at http://www.ourmilitaryheroes.org. Scholarships are only being awarded to those active or retired military personnel who register on November 11th between the hours of 6 a.m. and 9 p.m. EST online or by phone at (904) 262-0491.
The training is normally priced near $5K and is offered around the country 12 times per year with all classes conducted by LeGrand himself.
As a proud supporter of Fisher House Foundation and all military men and women who selflessly serve, it is LeGrand's desire to offer this opportunity as a means of giving back. LeGrand and Global Publishing, Inc. have raised nearly $45K for the Fisher House Foundation in which 100% of the proceeds earned from live auctions have been donated.
"LeGrand has taught thousands of students over the past 30 plus years how to buy and sell houses using little or zero dollars of their own money or credit to produce residual and replacement income in an effort to build lasting wealth for individuals and families," said one source at the Global Publishing company.
The free scholarships for veterans gives access to step-by-step instruction and hands-on training held in the classroom as well as out in the field. Students board a coach bus and tour bank-owned properties in a selected city where LeGrand is teaching. Details of each property, comps and repairs are discussed during each tour and offers or contracts can be arranged during the training session.
"Unfortunately, many military personnel upon leave or retirement, find it difficult to reenter the mainstream workplace," the source continued.
With Ron LeGrand's Quick Start Real Estate School and his offer to attend for free as a veteran, he's hoping to take the worry and uncertainty out of the workplace equation. No license or previous experience is required for this unique and prosperous opportunity. Other LeGrand students are now sharing their stories on Ron's website at http://www.ronlegrand.com/case-studies.
The no cost scholarships now offered to military personnel are for a limited time through November 11, 2014. Reservations for each scholarship and city where tours will take place can be made on the Our Military Heroes website.
About Ron LeGrand
Ron LeGrand has taught thousands of students how to buy, sell and hold real estate in the U.S. for more than three decades. His unique programs are provided in-person, online and by mail to provide an easy way for the average person to get started in the real estate business. The Ron LeGrand website provides videos, blog content and educational content that can be applied to the real estate industry in any city nationwide.