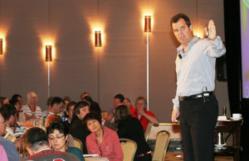 Most people think that if they negative gear, their property will double in price every seven years, they'll get this great tax deduction and it's an easy street to making money
(PRWEB) January 16, 2013
In the latest of his regular 'Creative Real Estate' podcasts, property investment specialist, Rick Otton, says that one of the greatest Australian tragedies is the belief in the power of negative gearing to achieve financial success. In the interview, with one of his successful students, alternative, profitable strategies are revealed.
"Most people think that if they negative gear, their property will double in price every seven years, they'll get this great tax deduction and it's an easy street to making money," he said. "But increasingly people are coming to me saying, 'Look, I've got this negatively geared property and it's burning a hole in my pocket."
One of his students, Andy, described how his negative gearing strategies backfired when his investment property not only failed to hold value over time, but actually lost value.
"The value went backwards and I ended up owing more on my loan that what the house was worth," he said.
Turning Losses Around – Creatively
When Andy started implementing Mr Otton's Creative Real Estate strategies, he found that he had greater control over cash flow and the enjoyment of locked-in profits.
One of Mr Otton's key strategies, he revealed, is for investors to deal-break between renters eager to break into property ownership and sellers eager to sell their house. Under what is often called a rent-to-lease scenario, renters who cannot source traditional banking finance pay potential sellers an agreed monthly amount which is put towards a house deposit. After a specified period, the renters have the option to buy the house.
In Andy's case, he took on the role of seller. Employing Mr Otton's techniques, he turned around his negative equity and $2,000-a-month negative gearing losses to achieve a $30,000-a-year profit.
"I arranged the financing paperwork for the house before finding a buyer who couldn't get a home loan the traditional way," Andy said. "It took a while to get my head around Rick's concepts, but when I did, it was very powerful stuff."
The free full podcast can be heard on iTunes and through CreativeRealEstate.com.au
About Rick Otton
Rick Otton has spent decades making money by snapping up inexpensive real estate and putting it to work building wealth. Now, he's teaching other Aussies how to do the same. He is the founder and CEO of We Buy Houses, which operates in the U.S., U.K., Australia and New Zealand putting his strategies to work every day.
Otton got his start in alternative real estate investment in 1991 and within a year acquired 76 properties. In years after, he made a fortune using his low-risk, high-reward strategies to inexpensively acquire real estate.
Now, Otton wants to share the wealth by sharing the wisdom, teaching us how to buy and sell real estate without cutting banks and other middlemen in on the deal.
Otton has been featured in a variety of television programs and magazines, including Today Tonight, A Current Affair, Australian Property Investor and more.
The free podcast cam be heard at CreativeRealEstate.com.au