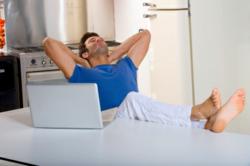 This information can be used at any stage of investing for someone planning a property acquisition.
Little Rock, Arkansas (PRWEB) January 14, 2013
The buying and selling of property usually takes training and experience in order to complete correctly. For alternative forms of real estate investing, few resources exist to help educate men and women searching for ways to acquire discounted properties. The TedThomas.com website has released a new real estate training for mortgage-free properties video series online. This new video training can be accessed at http://www.tedthomas.com/step2.
This new addition is designed to educate and inform new and advanced investors how to acquire property using strategies separate from realtors, brokers or other investment professionals online and offline.
The mortgage crisis is many states has opened up new opportunities for investors to locate foreclosed properties and other distressed homes. While some investors purchase properties to flip for a profit, some are utilizing a hands-off approach to investing in real estate for the short and long-term. The process of obtaining mortgage-free real estate is explained in detail inside of the new video series now accessible online.
This video incorporates more than one way that someone can use to make an investment or acquisition of properties in all 50 U.S. states.
"Certain investments are government-backed in real estate," said Ted Thomas, creator of the new training video series. "The procedures that are used to locate, research and obtain mortgage-free properties in this new educational information," added Ted. Properties typically increase in value each year and offer a alternative to stock market investing that produces fluctuating returns and losses for some investors.
Aside from the streaming video training material now released, a new products store has been launched on the TedThomas.com website. As the author of over 30 books and other guides, Ted now holds one of the biggest information product libraries on the subject of tax defaulted property offline. Many of these books and training guides are now offered for sale to new and experienced investors for discount prices. This information can be used at any stage of investing for someone planning a property acquisition.
About Ted Thomas
Ted Thomas is one of the leading authorities for tax defaulted property acquisition in the United States. Thousands of men and women have been personally educated by Ted on their quest to become better real estate investors. The offering of a large library of books and DVDs is helping more investors who do not attend in-person live events to learn from Ted Thomas how to increase property portfolios. The 2004 launch of TedThomas.com is one way that this mortgage-free real estate expert has used to deliver his training online. Through new training programs and in-person coaching, Ted Thomas has remained a leading educator in his industry.