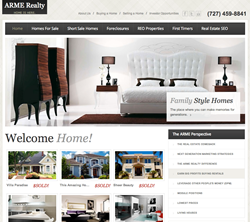 This system will continually produce new, relevant, and high quality real estate tips that you can use for your business as a real estate pro or use as content for your real estate web projects.
Nationwide (PRWEB) June 25, 2013
Real estate website SEO tips are now available on ARME Realty.com via the release of their SEO tips generator. ARME Realty.com has compiled some of the the best SEO tips available from various contributors from around the country and is now allowing real estate professionals direct access to their common sense real estate website SEO tips for improving a website's web position.
"Many real estate professionals have also jumped into the role of web designer as they understand just how important it is to maintain a positive web presence going forward. Many of these web masters have delved into the world of search engine optimization as well. For this, our common sense tips engine is perfect," states Simon Landers, spokesperson.
Various contributors from all facets of the real estate business have contributed to ARME Realty.com's massive database real estate SEO content. Currently there are over 1,000,000 articles covering the buying, selling, and commercial segment of real estate. Many pros have reused this content for their own websites, and ARME Realty.com even encourages it.
"All of our content is available for private label use, and with the massive database of content available, this system matches perfect with the budding online real estate entrepreneur," says Mr. Landers. "This system will continue to produce new, relevant, and high quality tips that real estate professionals and web masters can use for their real estate related website projects."
For more information about ARME Realty.com and their suite of advanced real estate search engine optimization programs, contact the firm at (727) 459-8841.