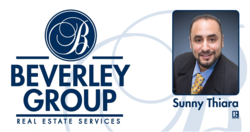 They need to know how to negotiate with the bank properly and understand the market in that area. In today's economy, dealing with investors and buyers, you have to pick realtors who know their game
San Francisco, CA (PRWEB) April 14, 2012
The Beverley Group, a real estate group that provides luxury homes in the Bay Area, would like to offer local homeowners the following advice concerning selling homes and making smart short sales:
1) Find a good real estate agent. In the case of short sales, years of experience in the real estate industry is not enough. Real estate agents should also have experience and knowledge dealing directly with short sales.
"They need to know how to negotiate with the bank properly and understand the market in that area. In today's economy, dealing with investors and buyers, you have to pick realtors who know their game," Sunny Thiara of the Beverley Group said. "A realtor should know how to market and put the product out there properly, and should know how to maneuver while bringing excitement to the game."
2) Don't delay. By waiting too long, homeowners may cut the amount of time they have to negotiate with the bank.
3) Do the leg work. It is in homeowners' best interests to find out the options available with a variety of banks early and to come up with a game plan.
4) Read all of the Realtor's reviews and referrals. Although a Realtor may have years of experience, homeowners want someone who works for them and inspects the home for the homeowner.
Thiara, the CEO at The Beverley Group, is an excellent resource for homeowners both looking to sell or buy. Throughout his career, Thiara has only lost one short sale. He helps clients find and sell homes, and works with all sorts of clients. From small to large, he works hard for all of his clients throughout the San Leandro, Danville, Dublin, Pleasanton, Alamo and Tiburon/Sausalito areas.
For more information about buying or selling a short sale, or any of the Beverley Group's listings or services, call 925-478-3456 or view the real estate company on the web at http://www.beverleygrp.com. The Beverley Group is located at 1201 Fourth St. in San Francisco.
About The Beverley Group Real Estate Services
The Beverley Group provides boutique real estate representation to businesses and individuals in the East Bay. It offers client consultation on a variety of real estate matters, from short sales, bulk home sales, luxury real estate properties and more. The Beverley Group serves the areas of San Leandro, Danville, Dublin, Pleasanton, Alamo and Tiburon/Sausalito.