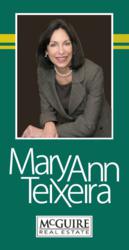 I do strongly feel that it is my responsibility to look out for my client's best interests.
Burlingame, CA (Vocus/PRWEB) February 17, 2011
Many people try to purchase a new home without the help of a real estate agent. Mary Ann Teixeira, a San Francisco Bay Area REALTOR®, explains how a real estate agent is essential to the home buying process. A real estate agent is an unbiased third-party expert who can understand and synthesize all the information and reports on a property, make recommendations for or against purchasing, and help negotiate pricing when the right home is found.
A common scenario among homebuyers is getting overly excited about a house that seems to fit their checklist. The house is in the right neighborhood, it's the right size, it looks nice, and it's within their price range. What's not to love?
"This is exactly the point where my work really begins," says Teixeira. She carefully reads the pre-sale inspections and disclosure package. "I have noted where I have questions, I have written comments where I feel further inspection is needed, and I have made notes to myself to ask my clients if they feel that they understand confusing terminology or vague descriptions." Teixeira helps clients cut through all the real estate jargon and understand the condition of the house and what it means to them.
People enchanted with a property may not be seeing it clearly. Although it is ultimately the homebuyer's decision whether or not to make an offer, a real estate agent can be helpful in gaining perspective because they are not emotionally attached to the property. "I do strongly feel that it is my responsibility to look out for my client's best interests," Teixeira explains. "I do keep an eye out for red flags. I do try to guide my clients towards careful and intelligent decisions." A real estate agent can offer perspective and help homebuyers make sound choices.
Perhaps most importantly, a Bay Area real estate agent can guide homebuyers through the closing process. Real estate agents are experts in negotiation and pricing. Their services can be invaluable when deciding what the terms of the sale will be and how much to offer. By using a real estate agent, homebuyers can get the best deal and save themselves the headache of direct negotiation with the seller.
For additional information about reasons to use a real estate agent or San Francisco Bay Area Peninsula real estate and relocation, call Mary Ann Teixeira at (650) 241-0318, or visit her website at http://www.maryannt.com.
About Burlingame REALTOR® Mary Ann Teixeira
Mary Ann Teixeira is a licensed REALTOR® with McGuire Real Estate in Burlingame, California who specializes in relocation services, homes for sale, and luxury homes. She is a seasoned buyer's agent who serves the San Francisco Bay Area Peninsula communities of Atherton, Burlingame, Cupertino, Hillsborough, Los Altos, Los Altos Hills, Los Gatos, Menlo Park, Mountain View, Palo Alto, Portola Valley, Redwood City, San Carlos, San Jose, San Mateo, Santa Clara, and Woodside.
# # #