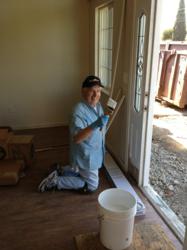 Our offices were tasked with choosing a project in which everyone could participate, and each office partnered with a local community organization for that day
San Francisco, CA (PRWEB) March 31, 2012
Twenty-six San Francisco, Berkeley and Sonoma Valley real estate offices and numerous real estate agents within the Better Homes and Gardens Mason-McDuffie network, including its joint ventures with Highland Partners, Wine Country Group and Tri-Valley Realty, recently donated time and resources to complete designated projects for some 21 charities in their local communities for the company's third annual "Giving Day" on March 10.
"Our offices were tasked with choosing a project in which everyone could participate, and each office partnered with a local community organization for that day," said Kathy Ollerton, Director of Charities and Training for Better Homes and Gardens Mason-McDuffie. "We are pleased to say that we had hundreds of sales agents and staff give more than 2,000 hours of service to those in need."
The company's real estate agents and their families contributed to local San Francisco, Berkeley and Sonoma Valley area organizations, such as Abode Homeless Shelter, Chaparral House, Blue Star Moms, Children's Village, Quinn Cottages, SF County Parks and many others.
"With nearly 100-percent participation from our office, agents contributed money, brought painting equipment and supplies and met early Saturday morning at the Sebastopol Area Senior Center. Our goal was to paint the facade of the building and the reception area. By the time our group finished, the building looked as good as new. On Monday, clients were greeted with a clean, brightly painted lobby and reception area," Timothy Hedges, broker of the Sebastopol office, said.
Rich Wilks is a broker with the Sacramento-Midtown office that built new flowerbeds and gardens to enhance the living environment at Quinn Cottages, a transitional housing community. He applauded the residents who work to help themselves and improve their situation. In honor of them, the real estate agents wanted to give them something they could be proud of.
"All of our offices and agents were totally engaged in this endeavor: they carefully chose organizations that are close to their hearts, and truly made a difference in their communities. We really appreciate the commitment of these great real estate agents and employees," Ollerton said.
For more information about the event, the charities or any of Better Homes and Gardens Mason-McDuffie's services, call 925-924-4751 view the real estate company on the web at http://www.bhghome.com or visit 2200 Union St. in San Francisco.
About Better Homes and Gardens Mason-McDuffie Real Estate
Mason-McDuffie Real Estate started in 1887 and in 2010, the company was named the 17th largest real estate services firm in the nation, and the number one in the San Francisco East Bay area. Better Homes and Gardens Mason-McDuffie Real Estate is independently owned and operated and includes joint ventures with partners Highland Partners in Piedmont, Wine Country Group in the North Bay, and Tri-Valley Realty in Pleasanton-Hopyard and Ruby Hill. The organization is comprised of more than 1,200 sales professionals in 26 offices.