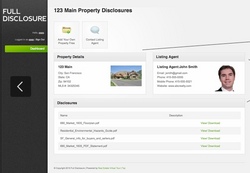 San Francisco, CA (PRWEB) June 17, 2010
Full Disclosure, a web app offering real estate agents a simple way to store and share real estate documents and disclosures, officially launches today at http://www.getfulldisclosure.com
Full Disclosure makes it drop dead simple for agents to create a public or private property page and upload an unlimited number of documents such as disclosures, title reports, property flyers, and more. They can then share the disclosure with anyone and everyone by simply sharing a link. No wasted paper, no programs to download, and no hassle.
The service is also fully integrated with Facebook, allowing users to sign on instantly with their Facebook account. Users can track who's viewed their disclosures, and they can share a public or private link. The public link lets anyone access all the disclosures. The private link requires users to create an account (or instantly sign in via Facebook), so that the poster can track who's viewed their documents and follow up if necessary.
Unlike many other document and file sharing systems, Full Disclosure was designed exclusively for the real estate industry. Designed with input from active agents, the focus is on simplicity and speed. Even basic computer users should be able to post all their disclosures in less than three minutes, and sharing is as simple as copying and pasting a link.
Full Disclosure is currently offering a free basic account which allows unlimited documents for up to two properties at a time. Accounts are free: http://www.getfulldisclosure.com
###